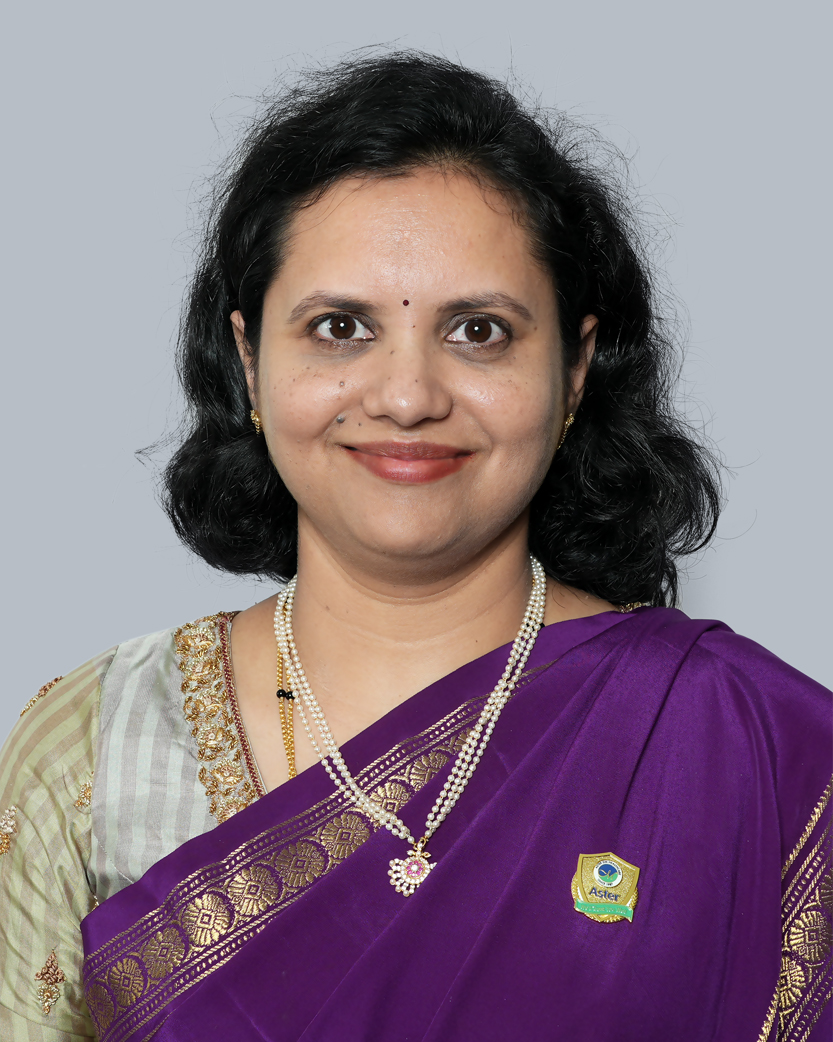 Dr. Varsha Desai Kale
Lead Consultant - Fetal Medicine
MBBS, DNB, MNAMS, FUP (BFMC), FMF UK certified
Overview
Dr. Varsha Kale completed her MBBS from Rajiv Gandhi University, Bengaluru, followed by a DNB in Radio Diagnosis from the National Board of Examinations, New Delhi. Later, she participated in a Fetal Medicine Ultrasound Program at the Bangalore Fetal Medicine Center, Bengaluru. She has also participated in a Breast imaging mentorship program conducted by the Breast Imaging Society of India.
Dr. Varsha has more than a decade of clinical experience in fetal medicine and radiology. She is well versed in fetal imaging, breast and women's imaging. She is an FMF (Fetal Medicine Foundation, UK) operator and has been certified to perform NT and Anomaly Scans. She can perform foetal 3D/4D imaging, foetal doppler, high-risk pregnancy scans, gynaecological transvaginal scans, breast imaging, and is also well versed in performing fetal echocardiography. She can perform procedures like CVS and amniocentesis. 
She has been a speaker at state, national, and international radiology forums. Authored a sub-chapter in the textbook of radiology published by IRIA. 
Dr. Varsha is past vice president of the Indian Radiology Imaging Association, Karnataka State Chapter. She is also a national IRIA coordinator for SHAKTHI program.
Before joining Aster CMI Hospital, Dr. Varsha Kale was working as a lead consultant radiologist and fetal medicine specialist at SPARSH Hospital, Infantry Road, Bengaluru.

Membership, Presentation & Associations:
    • National Academy of Medical Sciences (NAMS)
    • Indian Radiology Imaging Association (IRIA)
    • Society of Fetal Medicine (SFM)
    • Breast Imaging Society of India (BISI)
    • Indian College of Radiology and Imaging (ICRI)
    • European Society of Radiology (ESR)
    • Ex Vice President of Indian Radiology Imaging Association, Karnataka State Chapter
    • National IRIA Coordinator for SHAKTHI Program
Area of expertise
    • NT scan
    • Anomaly scan
    • Foetal 3D/4D Imaging
    • Fetal Doppler
    • High-Risk Pregnancy Scans
    • Fetal Echocardiography
    • Gynaecological 3D Transvaginal Scans
    • Follicular monitoring
    • Breast Imaging
    • Cross-Sectional Women's Imaging
Awards and recognitions
    • State IRIA appreciation award-Shakthi wing.
    • Appreciation award- National IRIA conference 2021-22
Other Similar Doctors