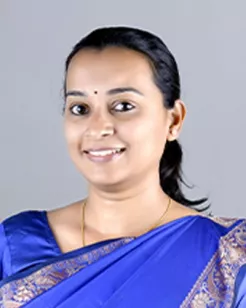 Ms. Apoorva Deshpande
Consultant - Child Psychologist
MPhil - Psychology, Masters - Clinical and Counselling Psychology
Overview
Apoorva Deshpande is a child psychologist in Bangalore who completed her M.Phil in the specialization of Psychology from the Jain University, Bangalore. Not only she is the best child counselor in Bangalore but also has a good understanding of treatment and rehabilitation principles but also holds a fairly strong background in Neuropsychology. Her keen areas of interest include Autism Spectrum Disorder Management, Learning Disabilities, and Parent Training. She has an excellent ability to make independent judgments from common to rare cases and provide individual and family counseling services.
She is one of the best in psychological counseling in Bangalore who believes that every child needs an opportunity to reach his/her potential. With her knowledge in psychological assessment, early intervention, and remediation, she aims for the same. Her hard work, commitment, and skills facilitate this goal-oriented approach.
Work Experience:
Dr. Apoorva Deshpande was a part of the Center For Child Development and Disabilities, Bengaluru from 2014- 2019 where she conducted Social-emotional learning and handwriting sessions and delivered early intervention for children with Autism and academic remediation for children with Learning Difficulties.
She was part of the team that digitalized the parent-based intervention program and created a manual for the same and she also provided parental training and emotional counseling.
Area of expertise
Developmental, behavioural and academic assessments

Autism Management

Behaviour Management

Parent Training
Awards and recognitions
Co-Author of a scientific study titled' Evaluation of Depression and Quality of Life in Mothers of Indian Children with Autism Spectrum Disorders' published in the India Journal of Social Psychiatry (April-June 2019)
Co-Author of a scientific study titled 'Effectiveness Of A Parent-Based Intervention Program On Indian Children With Autism Spectrum Disorders' published in International Journal of Scientific Research (October 2018)