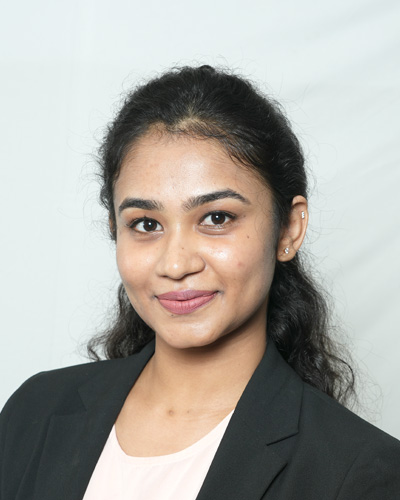 Ms. R Varshitha
Pediatric Physiotherapist
MPT- Pediatric, BPT, COMT, YIC
Overview
Ms. R Varshitha stands as a distinguished Pediatric Physiotherapist, currently practicing her esteemed craft at the renowned Aster CMI Hospital, Bangalore. Her academic journey led her to the prestigious M.S. Ramaiah Medical College, Bangalore, where she embarked on a path of excellence, earning both her Master of Physiotherapy and Bachelor's of Physiotherapy degrees.
With a wealth of knowledge and expertise, Ms. Varshitha has cultivated her skills in the intricate art of pediatric physiotherapy. Her invaluable experience spans a broad spectrum, encompassing the treatment of pediatric individuals from neonates to teenagers. She has extended her care to high-risk patients across various medical domains, including Orthopedics, Oncology, Neurology, Cardiorespiratory, and Nephrology. Her expertise doesn't stop at treatment alone; she is adept in pre and post-surgical care, ensuring optimal rehabilitation for young patients undergoing medical procedures. Beyond the clinical setting, Ms. Varshitha has devoted her skills to benefitting children in special schools and urban schools, championing health promotion and prevention.
Ms. Varshitha's commitment to holistic well-being is further underlined by her certifications in Manual Therapy and Yoga Training, offering a comprehensive approach to patient care. She also brings to her practice a unique dimension as a certified Sensory Integration Therapist, enabling her to address the sensory needs of children effectively. Her contributions have not been limited to the hospital setting, as she has extended her compassionate care to the Centre for Child Development and Disability in Bangalore, enriching her clinical experience as both a Sensory Integration Therapist and a dedicated Physiotherapist.

Membership: She is fellow member of Indian Association of Physiotherapist- I.A.P
Registered I.A.P no: L- 55328
Area of expertise
Ms. Varshitha has work experience in clinical assessment, diagnosis, goal planning and treatment for the early developmental stimulation of various department of pediatric cases. She also adds exercise prescription and progression to acute and chronic rehabilitative individuals with neurological, musculoskeletal, cardiorespiratory, oncological, nephrology, sports and physical fitness along with parental education. She is trained and has experience to provide therapy for neuro-diverse pediatric such as ASD, ADHD, LD, ID, GDD, DD, DS & various genetic issues. She also has hands on experience in early developmental stimulation of neonates and infants. She is proficient in application of her yoga practice along with Physiotherapy techniques for the betterment of the individuals and to develop their age appropriate motor and self help skills.
Awards and recognitions
Certificate of appreciation by Ramaiah medical college and hospitals for dedicated services during COVID-19 pandemic of 2020-21
Certificate of participation through online training program on "Behavioral Management in Children" by CCDD, 2022
Certified COMT- Course in Orthopaedic Manual Therapy held in Raipur, India (Dec 2018) and Integrated approach in Neurodynamic, HVT, Taping by Capri Institute of Manual Therapy
Certified Yoga Instructor Course (YIC) conducted by YUJ YOGA FOUNDATION
Certificate of participation and understanding on "Role of Physiotherapists in NICU & developmental screening clinics" by Father Muller college of Allied Health Sciences
Other Similar Doctors