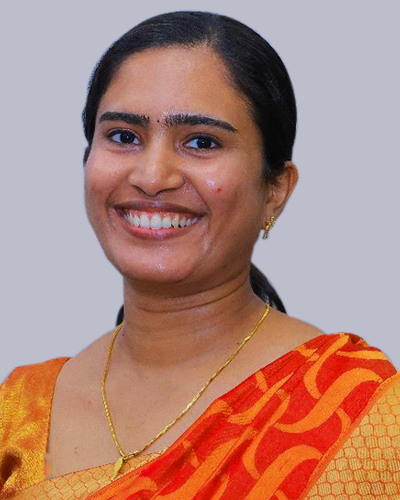 Dr. Dona Teresa Thomas
Senior Specialist - Paediatric Neurology
MBBS | MD (Pediatrics) | IAP Fellowship in Pediatric Neurology
Overview
Dr. Dona Teresa Thomas is a pediatric neurologist, who specializes in the management of neurological diseases in children, infants and neonates including febrile seizures, epilepsy, demyelinating, neurodevelopmental, neuromuscular, neurogenetics and neurometabolic disorders. Dr. Dona underwent training in pediatric neurology under the aegis of IAP. She believes in a holistic and comprehensive approach towards patient care for better patient outcomes. She has excellent communication and counseling skills and is updated with newest trends, innovations and treatments in field of pediatric neurology.
Area of expertise
Pediatric neurology
Pediatric and neonatal epilepsy, febrile seizures, demyelinating and neuromuscular disorders
Neuro-infections, neurogenetics and neurometabolic disorders
Neurodevelopmental disorders (autism, ADHD).
Reporting of neurological investigations like EEG, EMG, Nerve conduction study, Visual Evoked potential and BERA studies.
Holistic and comprehensive approach for better patient outcomes.
Dedicated neurologist with an innate passion to excel and good interpersonal skills.
 
Awards and recognitions
Paediatric Epilesy Training Certification from British Paediatric Neurology Association (BPNA), U.K. 
 NESSAN EEG Certification from National Epilepsy Surgery Support Activity Network, India.
Global Developmental Delay Certification from NIMS Spectrum Child Development Research Centre, Trivandram, Kerala (IAP Chapter of Neuro Developmental Pediatrics). 
prize in pediatric neurology paper at 12th AOCN 2022, Ahmedabad, for the paper entitled "Genetic variations and genotypic - phenotypic correlations in children with drug resistant epileptic encephalopathy – a retrospective analysis."
2nd prize in pediatric neurology paper at Child Neuron 2022, (21st Annual conference of Academy of Pediatric Neurology of Kerala) for the paper entitled "Clinical utility of film array meningitis/ encephalitis panel in acute encephalitis syndrome in children at a tertiary care centre" 
All India 61st rank holder for pediatric group at NEET SS 2022 (DM/MCh entrance exam). 
Dr. Ankegowda award for scientific paper titled "Serum NGAL – An early and reliable predictor of AKI in asphyxiated neonates" at XXXIV Karnataka State Pedicon in 2015.
Winner in the 9th IAP Pediatric quiz for Post Graduates in Mysore division held at Yenepoya Medical College in 2015 
Winner in the 9th IAP Pediatric quiz for Post Graduates in Karnataka State division held at NIMHANS, Bangalore in 2015.
Talk on "Cerebellar hemorrhage after scoliosis surgery in a 14 yr old" at Kairaly Neurological Society meet in August 2022. 
Talk on " Interesting case of recurrent stroke in a young child with DADA2 vasculitis" at Learning from the little ones- virtual case discussion organised by Education vertical of AOCN, 2021. 
State 7th rank holder for 10th board examination (SSLC) Kerala, for the academic year 2004
 
Other Similar Doctors