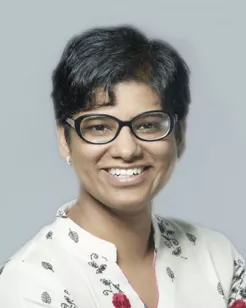 Dr. Mayuri Rajapurkar
Consultant - Head and Neck Surgery
Clinical Research Fellow - Head-Neck Services, UICC-ICRETT Fellowship , Fellowship in Head - Neck Oncologic & Reconstructive Surgery, MCh in Head Neck Surgical Oncology, MS in ENT, MBBS
Overview
A Head and Neck Surgeon with more than 11 years of experience, Dr. Mayuri Rajapurkar specializes in surgical management of cancers that affect the mouth, throat, nasal passages, sinuses, voice box, salivary glands, thyroid gland and skin of the scalp, face and neck, with strong focus on optimising functional and aesthetic outcomes. Trained at some of the finest institutes in India and the United States, she is an expert in highly advanced procedures like Trans Oral Robotic Surgery (TORS) and Transoral Laser Microsurgery (TLM).
Area of expertise
Oncologic surgery for the upper aero digestive tract (UADT) tumours
Conservation Laryngeal Surgery, Laryngectomy - surgery for voice box tumours
Lip, Cheek, Tongue, Palate and Jaw Tumours- Peroral resections, pull-through procedures that avoid/ minimise scars and improve functional & aesthetic outcomes, 3D reconstructions and computer aided cutting guides
Management of orbital tumours
Skull-base surgery for tumours of the paranasal sinuses, anterior skull-base and lateral skull-base
Surgery for salivary gland tumours – parotid gland and submandibular gland, with intraoperative facial nerve monitoring
Thyroid and parathyroid gland surgery
Surgical management of vascular malformations of the scalp, face, neck and UADT
Surgical management of cancers of the skin on the head, face & neck
Local & regional methods for reconstructive surgery to optimise functional and aesthetic outcomes
Free tissue transfer including reconstruction with the use of standard soft tissue and bone flaps
Speech & swallowing rehabilitation with focus on optimizing functional outcomes for all head & neck tumours
Post laryngectomy/alaryngeal speech rehabilitation: tracheo-esophageal punctures and valves/prosthesis
Awards and recognitions
UICC-ICRETT Fellowship, M D Anderson Cancer Centre, Houston, USA
Research: Role of ceramide synthases in oral carcinogenesis; Tobacco and betel-nut related oral lesions
Six published research articles in peer reviewed journals.
 
Other Similar Doctors