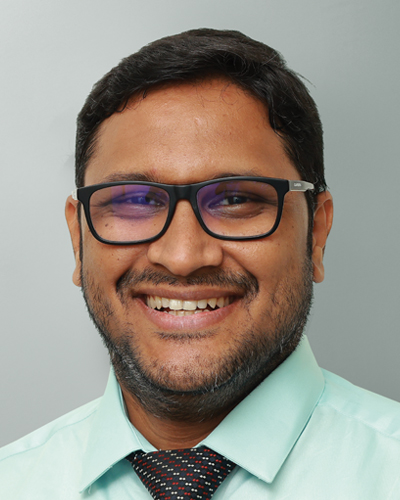 Dr. Mohammed Noufal
Consultant - Medical Gastroenterology
MBBS, MD, DM (Gastroenterology)
Overview
Dr. Mohammed Noufal is a medical gastroenterologist with an overall experience of 16 years and of over 7 years in the field of interventional gastroenterology and Gastro-intestinal (GI) endoscopy. He completed his MBBS from PSG IMS & R, Coimbatore in 2006, and his MD in General Medicine from Govt. Mohan Kumaramangalam Medical College, Salem in 2011. With a special interest in Gastroenterology, he further did his DM in Medical Gastroenterology from Madras Medical College, Chennai in 2015. An interventional gastroenterologist with experience in advanced therapeutic ERCP and interventional EUS, Dr Noufal has undergone Advanced endoscopy training in endoscopic surgical procedures like ESD and POEM under Professor Hu Bing at West China Hospital, Sichuan University, and Bariatric Endoscopy training in Endoscopic Sleeve Gastroplasty (ESG) at AIG Hospital Hyderabad.
Adept at the management of acute GI bleed with advanced techniques, Dr Noufal is highly familiar with the diagnosis and treatment of gastrointestinal and hepatological disease states and health concerns. He has a special interest in endoscopic treatment of obesity like intragastric balloon placement and endoscopic sleeve gastroplasty (ESG).
Dr. Noufal has published abstracts and research articles in peer-reviewed journals like the Indian Journal of Gastroenterology, and the IJSR, to name a few. He also presented papers at annual conferences of national and international repute such as the World Gastroenterology Summit. Before joining Aster Medcity Kochi, Dr Noufal was a Consultant with Dr Rela Institute & Medical Centre, Chennai. He was also associated with Aster MIMS Kottakkal, MGM Healthcare Chennai, and Dr Kamakshi Memorial Hospital Chennai in the past.
 
Area of expertise
Therapeutic & post – transplant ERCP
EUS guided interventions
Pancreatic endotherapy
Third space endoscopy – ESD, POEM, STER
Bariatric endoscopy 
Endoscopic sleeve gastroplasty 
Intragastric Balloon