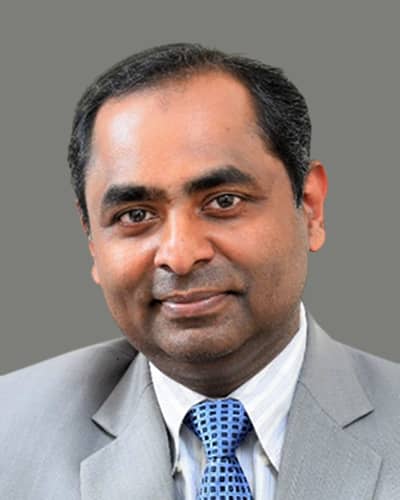 Dr. Rajesh Simon
Consultant - Foot & Ankle Surgery
MBBS (Mysore University) | M.S. Orthopaedics (Christian Medical College, Ludhiana)
Overview
Dr. Rajesh Simon has considerable experience and technical skills in Foot & Ankle Surgical and Podiatry Care. He has pioneered Foot and Ankle Surgery in South India. He has had a broad national and international practice in Foot and Ankle Surgery and gained extensive knowledge and talent. Dr. Rajesh has been an eminent invited faculty and has given guest lectures in many national and international conferences and congress held by various institutions and societies across the globe. Having published multiple articles in high-impact international and national medical journals such as Orthopaedic Update, Asian Journal of Arthroscopy, and Journal of Foot and Ankle Surgery (Asia Pacific), he constantly updates his knowledge in the latest advancements and techniques in Foot & Ankle Surgical Care. He is at present heading a national project on Charcot foot and ankle management which is affecting so many Diabetic patients across India. He is also well versed with advanced procedures and equipment.  
Dr. Rajesh Simon is the incoming President of Indian foot and Ankle Society. He is a regular AO faculty and has been Chairman of various courses of AO in the past. He has also held numerous positions in learned societies.  He also has a credit in organizing various meetings, CMEs and conferences in the past.
Dr. Simon is very socially committed and does immense work for social causes connected with medical activities. He has been actively involved with various forums and NGOs and that has an interest in social causes.
 
Fellowships:
Fellowship in Foot and Ankle from University of Alabama, Birmingham, United States of America
A.O. Expert Foot and Ankle Fellowship done in Royal NorthShore Hospital, Sydney Australia
 
Courses: 
A.O. Basic & Advance course 
Immediate Trauma Life support course, 
Trainer course for Immediate Trauma Life support 
Foot and Ankle advanced course (Munich)                     
AO provider course for Faculty education program (FEP) in Hong Kong in 2013
AO Chairman's Education Program CEP course in Bangalore April 2017
 
Other Similar Doctors