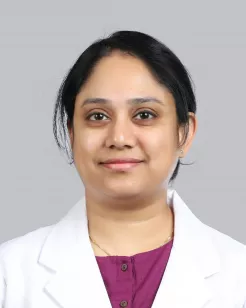 Dr. Bindu R
Senior Specialist - Pathology
MBBS, MD (Pathology), PDCC (Oncopathology)
Overview
Dr Bindu.R Studied MBBS from Devaraja urs medical College, Karnataka and completed MD pathology from Bangalore medical College in year 2017. Obtained fellowship in Oncopathology  from AIIMS Rishikesh and did one of senior residency from the same institute. Areas of interest is Gynecologic pathology and Oncopathology. Was working in Avitis institute of medical sciences palakkad before joining here.
Area of expertise
Histopathology with a keen interest in Oncopathology and GI Pathology

Hematopathology

Cytology
Awards and recognitions
Publications:
Squamous cell carcinoma of larynx with concurrent warthin's tumour of the submandibular gland :A rarely reported coexistence in Indian journal of pathology and microbiology

Research article- Interobserver reproducibility of the Paris system of reporting urine cytology on cytocentrifuged sample. Published in Diagnostic Cytopathology

Spontaneous regression of lymphatic malformations -A rare case of transient macroglossia

PDL1 : A novel target,letter to editor in Cancer research statistics and treatment (CRST journal)

Rajkumar B, Sahai R,Singh D, Singh M,Singh A,Kumar A. Primary neuroendocrine tumour of urinary bladder:a case report of an unusual occurrence. Cureus.2022Feb28;14(2)'e22720.

Sethi PP, Bairwa M, Pathania M, Meena M, Rajkumar B.Trichinellosis: A Case of Life-threatening Myositis and Myocarditis in Garhwal Hill RegionJ Clin of Diagn Res.2021; 15(12):OD03-OD06.
Observership: 
Completed observership in Department of Neuropathology, NIMHANS, Bangalore from 1/09/2016 to 15/09/2016.
Completed observership in department of Oncopathology, KIDWAI, Bangalore from 16/09/2016 to 31/10/2016.