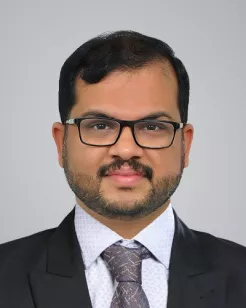 Dr. Gangaprasad G
Associate Director - Aster North Kerala Cluster (Critical Care)
Overview
Dr. Gangaprasad is Associate Director - Aster North Kerala Cluster of Critcal Care Medicine at Aster MIMS, Calicut with more than 7 years of experience. He is experienced in treating post-organ transplant patients and his area of interests are neuro critical care, post organ transplant infections, sepsis and toxicology.
Area of expertise
Tropical fevers

Organ Transplant & Brain dead Donor management.

Renal replacement therapy in critical care

Critical care Ultrasound and Echo

Obstetric Emergencies

Sepsis and Toxicology
Awards and recognitions
Certificate of Excellence from Chief Minister for services related to 'Nipah"

Govt. of Kerala, Health and family welfare department appreciation certificate for the services

to control Nipah outbreak in Calicut.

WHO has appreciated Baby Memorial Hospital in their website for quickest diagnosis of Nipah which

Helped in the fast containment of the outbreak.
Publication:
Manappallil RG, Surendran S, Kumar A, Prasad G. Normotensive HELLP Syndrome in the Midst of

Dengue fever. Asian Journal of Medical Sciences 2018; 9(2):40-42

Manappallil RG, Azez A, Kumar A, Prasad G, Sabir MC, Emphysematous Pylonephritis Presenting

in Acute Respiratory Distress Syndrome: A case report. Intl J Adv Med 2017;4:1487-9

Manappallil RG, Gangadharan G, Anil R. Abdominal Pain due to Cough –induced internal oblique

and transverse abdominis hematoma in patients with H1N1 Influenza. Indian J Case

Reports.2019; 5(6):518-519.

4. Robin George Manappallil, Gangaprasad gangadharan, Anju Chacko, Anil Praveen. Systemic

Lupus Erythematosus Presenting as Evans Syndrome. The Journal of International Medical

Sciences Academy. 2020( January to March); Vol 33;No 1
Other Similar Doctors