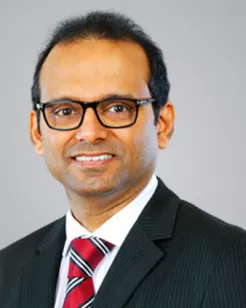 Dr. Pradeep Kumar. T
Senior Consultant & Head of Department
MBBS, MS (Ortho), Joint Replacement & Sports Medicine, Fellowship Joint Replacement (Germany)
Overview
Dr. Pradeep specializes in Sports medicine and Joint Replacement surgery. He is also a visiting surgeon at Medicare Orthopaedics and Spine Hospital, Dubai and Aster Hospital Qussais Dubai.
Prior to joining Aster MIMS, Dr. Pradeep was working as a Senior Specialist in the Joint replacement and sports medicine unit of the Orthopaedic Department at Dubai Health Authority, and also as Orthopaedic and Sports Medicine surgeon for Al Nasr Football Club, Dubai.
Dr. Pradeep has expertise in Joint Replacement surgery of Knee and Hip joints including Primary and Revision Joint Replacement Surgery, Sports Injury management (conservative and surgical management of ligament sprains, muscle strains, and joint injuries including the shoulder and knee), arthroscopic ACL/PCL reconstruction, cartilage restoration procedures of the knee, arthroscopic meniscal surgeries, patella reconstructive procedures, limb realignment osteotomies around the knee, shoulder arthroscopy for shoulder conditions like impingement, recurrent dislocation, arthroscopic rotator cuff repair.
Dr. Pradeep completed his MBBS in 1992 and M.S in 1996, from Manipal Academy of Higher Education. He has also done a Fellowship in Joint Replacement, from Germany. Dr. Pradeep is an international affiliate member of the American Academy of Orthopaedic Surgeons (AAOS) and is also a member of the Indian Arthroscopic Society.
Other Similar Doctors