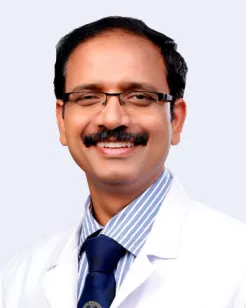 Dr. Sunil Rajendran
Senior Consultant - Vascular & Endovascular Surgery (Visiting)
MBBS, MS, DNB, MRCS, MCH (EDIN)
Overview
Dr. Sunil Rajendran did his basic medical degree (MBBS-1997) and Post-Graduation (MS (General Surgery) -2002 from Calicut and Govt Medical Colleges, one of the most prestigious medical schools in the state of Kerala, India. He obtained Diplomate of National Board (DNB) in the year 2005. Obtained Fellowship in Vascular Surgery from Sree Chitra Tirunal Institute of Medical Sciences, Thiruvanthapuram, Kerala, India in 2005. He was admitted as a Member of Royal College of Surgeon's of Edinburgh in 2006. He obtained MCh in Vascular and Endovascular Surgery from University of Edinburgh, in 2019. He further obtained advanced training in Vascular Surgery at various international centres of repute in Venous and Arterial diseases. He has been faculty at the meetings of Vascular Society of India (VSI) meetings from 2009, Venous association of India (VAI) from 2010 and also at various meeting of Association of Surgeons (ASI) He is a currently a Faculty at University of Edinburgh, UK for ChM in Vascular and Endovascular Surgery course conducted by Royal College of Surgeons of Edinburgh, UK. He is also the Assistant Editor of Indian Journal of Vascular and Endovascular Surgery.
He had been in Vascular Surgery practice since 2006 and presently is the Senior Consultant Vascular Surgeon and Head of the Department at Starcare Hospital, Kozhikode, Kerala. He also works as Senior visiting consultant Vascular Surgeon at Aster MIMS, Kozhikode. He had previously worked as Associate Professor and Consultant in Vascular Surgery at MES Medical College, Perinthalmanna, Kerala from August 2008 to December 2021. Also had worked as Consultant at PVS hospital Kozhikode from 2009 to 2018. He has extensive experience in dealing with all types of Vascular Surgical Problems.
Area of expertise
Limb salvage surgery
Infra-popliteal angioplasty
Venous interventions
AV access surgeries.
Awards and recognitions
Outcome of Infra-popliteal bypasses- Our Experience, Second Best Paper at the Annual meeting of the Association of Surgeons of India (ASICON) at Coimbatore, TN, 2010.

Outcome of Infra-popliteal bypasses- Our Experience, Best Paper at the Annual meeting of the Association of Surgeons of India, Kerala Chapter (KASICON) at Kozhikode, Kerala, 2010.

Mid-Team results of phase II MCT of Chitra vascular graft, Second Best Paper at the Annual conference of Vascular Society of India (VSICON), New Delhi.2006.

Cystadenoma of pancreas arising from an ectopic rest of tissue in the stomach, Second Best Paper at the Annual meeting of the Association) of Surgeons of India, Kerala Chapter (KASICON) at Cochin, Kerala, 2002.

Cystadenoma of pancreas arising from an ectopic rest of tissue in the stomach, Best Paper, at the proceedings of the Calicut surgical club during 2000-2001
Publications:
Raval M. Rajendran S, Stephen E The Outcome of Catheter-Directed Thrombolysis in COVID-19 Associated Deep Vein Thrombosis Vasc Endovascular Surg. 2022 Jan 215385744211068640 dol 10.1177/15385744211068640. Epub ahead of print. PMID: 34974761.
Rajendran S, Ramachandran Nair H, Irshad KM. Muhammed UT: Thaikattil NJ. Ultrasound-assisted varicose vein surgery and endovenous laser ablation using 1470-nm laser in the treatment of great saphenous vein incompetence has similar outcomes at one year. A single centre prospective randomized study. J Vasc Surg Venous Lymphat Disord 2021 Aug 23:52213-333x21)00423-6.doc 10.1016/Jvw 2021.08.013. Epub ahead of print. PMID: 34438089.

Rajendran S. Nair HR. Endovenous laser ablation of incompetent great saphenous veins with 1470-nm laser using bare tip and radial fibers results in similar short-term outcomes 3 Vasc Surg Venous Lymphat Disord. 2021 Sep.9(5):1209-1214 do 10.1016/jjvx202012069 Epub 2020 Dec 16 PMID: 3554073.

Rajendran S. Anto R, Nair HR. Ten-year follow-up of direct interposition graft repair of persistent sciatic artery aneurysm. J Vasc Surg Cases Innov Tech 2021 May 6,73) 508-509 do 10.1016/sci 2021.04.013. PMID 34401612 PMCID: PMC355832.

Rajendran S. Sreekumar RC Chandran 3. Arthur B. Voorhees J Inventor of prosthetic vascular graf-A birth centennial tribute, Ingund Vasc Endovasc Surg 20210, Suppl St.69-7).

Kiran SK, Shaji PC, Rajendran S, Gopinath T N, Jagdish J. Lower limb vascular anomalies and malformations with contrast-enhanced magnetic resonance angiography: A case series. Indian J Vasc Endovasc Surg 2021;8, Suppl S1:72-4

Rajendran S, Ramachandran S, Sarma PS, Unnikrishnan M. Graft patency and determinants of outcome in infrainguinal bypasses - A retrospective study. Indian J Vasc Endovasc Surg 2021,8:222-7.

Rajendran S, Nair HR. Peripheral Bypass-Looking back into the past. Indian J Vasc Endovasc Surg 2020:7:181-4
Other Similar Doctors