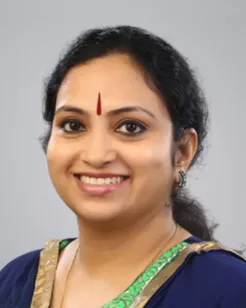 Dr. Uma Radhesh
Consultant - Obstetrics & Gynaecology
MBBD, DGO, DNB, Diploma in Laparoscopy, Advanced Training in Infertility (IVF) & Ultrasonography
Overview
With more than 18 years of experience, Dr. Uma Radhesh is an Obstetrician and Gynaecologist at the best obstestric & gynaecology hospital in Calicut - Aster MIMS. She started her career as a lecturer in OBG at Calicut Medical College. Later she worked at Pariyaram and Amala Medical College. She has been trained for 6 months at CRAFT, Kodungalloor, and has done a diploma in Laparoscopy & Ultrasound training. She has worked at a MIMS IVF center called MIMS CRAFT. She is an expert in managing high-risk pregnancies and critical care cases in Obstetrics. She is also an expert in Infertility treatment with many successful outcomes to her credit. 
Dr. Uma Radhesh is also experienced in hysteroscopy and laparoscopic procedures. She is cheerful and friendly with her patients. 
Area of expertise
High Risk Pregnancy: Pregnancy with medical complications like diabetics, hypertension, thyroid disorders, cardiac diseases, renal diseases, etc.
Recurrent Pregnancy Loss: Infertility - Work up evaluation, intrauterine insemination.
All Gynecologyc laparoscopic and laparotomy which includes laparoscopic hysterectomy.
Laparoscopic fibroid removal, laparoscopic ovarian cystectomy, etc.
Fertility enhancing laparoscopic surgery.
Laparoscopic sterilisation
Hysteroscopy both diagnostic and operation.
Awards and recognitions
Awards & Achievements
Speaker in International conference on high-risk pregnancy. 
Published papers in international journals, 
Training in advanced life support in Obstetrics. 
Diploma in Laparoscopy from the Indian institute of laparoscopy at Coimbatore. 
Training in Gynae Laparoscopy from Sunrise Hospital, Cochi 
Advanced training in infertility and IVF at International Institute of Reproductive Health (Kamini Rao), Bangalore.