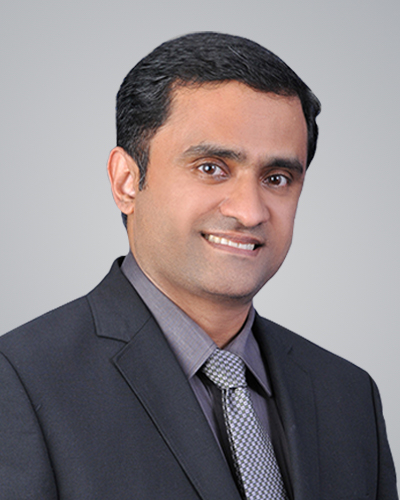 Dr. Ajoy Vijayan
Visiting Consultant Oral & Maxillofacial surgery
Overview
Dr. Ajoy Vijayan graduated in dentistry from the university of Mangalore in 1994, and masters in Oral & Maxillofacial surgery from Rajiv Gandhi university of Health sciences, Bangalore in 2002.
He was an active member in academics for the past 19 years, and was the Professor & Head of Oral and Maxillofacial Surgery at Kannur Dental College and Mahe institute of Dental sciences, Puducherry. He was also an examiner at various universities, during his academic career and has published extensively in various journals.
Dr. Vijayan, has wide experience in the management of facial trauma, which is one of his main fields of interest apart from management of benign jaw neoplasms, dental implantology, correction of congenital jaw deformities and Tmj disorders.
He gained experience in the management of Cleft lip and palate at Mangalore from 2002 to 2004, under the smile train programme.
He also worked at Malabar cancer centre Kodiyeri, Thalassery as a junior doctor in 2002.
Dr Vijayan was a key note speaker at state as well as national conferences of the Association Of Oral and Maxillofacial surgeons of India and also a key note speaker for the state conference of the Indian medical association.
He was an invited faculty for trauma workshop at Amrita Institute of Medical Sciences, Kochi. Dr Ajoy is also a faculty for AOCMF.
Area of expertise
Facial trauma
Benign jaw neoplasms
Dental implantology
Correction of congenital jaw deformities
TMJ disorders
Cleft lip and palate