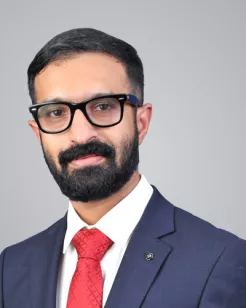 Dr. Ganesh M
Senior Specialist
MD, PDCC(Cardiac Anesthesia)
Overview
Dr Ganesh M has 6 years of experiences. He has provided Anaesthesia for almost 1000 cardiothoracic and vascular procedures.
Dr. Ganesh completed his MBBS, MD. in Anesthesiology and PDCC in cardiac anesthesia from Govt. Medical College, Calicut.
He is registered with the Travancore Cochin Medical Council and the Indian Society of Anesthesiologists.
He is a life member of the Indian Medical Association.
His areas of interest lie in anesthesia for thoracic procedures and anesthesia for minimally invasive cardiac surgeries.
He previously worked as a Consultant Cardiac Anesthesiologist at Koyili Hospital, Kannur.
Area of expertise
Anesthesia for Thoracic procedures
Anesthesia for Minimally Invasive Cardiac surgeries.