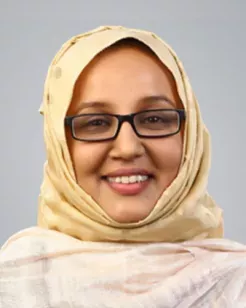 Dr. Hazuriya Sadique
Sr. Consultant & HOD in Obstetrics & Gynaecology
MBBS, MD (Obstetrics and Gynecology)
Overview
Dr. Hazuriya Sadique is an accomplished Obstetrician and Gynaecologist at the best multi-speciality hospital in Kannur - Aster MIMS. She has vast clinical experience in the field of high-risk pregnancies, infertility treatment and intrauterine insemination (IUI). She also has vast experience in the field of diagnostic laparoscopies, hysteroscopies, deliveries and Caesarean sections. 
Dr. Hazuriya Sadique has acquired MBBS from Govt Medical College, Kottayam and MD in Obstetrics and Gynaecology from Jawahar Lal Nehru Institute for postgraduate education and research (JIPMER), Pondicherry University. She has worked at CIMAR (Centre for Infertility and Assisted Reproduction) at Edappal for 3 years from 2003 – 2006. She has worked as a Chief Obstetrician Gynaecologist and Infertility specialist at Balsan Al Sitteen Polyclinic, Jeddah from 2006- 2007. She has done her fellowship and diploma in Laparoscopic and Robotic surgery from the World Laparoscopy Centre.
Area of expertise
High-Risk Pregnancy: Pregnancies with medical complications like diabetics, hypertension, thyroid disorders, cardiac diseases, renal diseases, etc.
Recurrent Pregnancy Loss: Infertility - Workup evaluation, follicular study, ovulation induction post-coital test, and intrauterine insemination.
All Gynecologyc laparoscopic and laparotomy which includes Laparoscopic hysterectomy, Laparoscopic fibroid removal, Laparoscopic ovarian cystectomy, etc.
Fertility enhancing laparoscopic surgery.
Laparoscopic sterilisation
Hysteroscopy both diagnostic and operation.
 
Other Similar Doctors