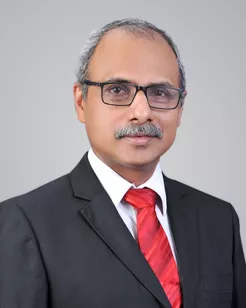 Dr. Prasad Surendran
MBBS, MS (Gen. Surgery), DNB (Gen. Surgery), MCh, DNB (CTVS)
Overview
Dr. Prasad Surendran has 25 years of experiences. He has personally performed almost 3500 Open Heart surgical procedures including many complex surgeries such as Bentall's procedures, Cardiac ruptures and acute aortic dissection.
Dr. Prasad also has many "firsts" in Kannur, including the first "blue baby" surgery, the first minimally invasive heart surgery.
His areas of interest are Surgery for Coronary Artery Diseases, Minimally Invasive Cardiac & Thoracic Surgery and  Aortic Surgery.
He has worked as a Senior Resident in the department of Cardio Thoracic Surgery at Kovai Medical Centre and Hospital Ltd., Coimbatore. Followed by Senior Registrar in the department of Cardiac Surgery at Medical Trust Hospital, Kochi.
He worked 2 years as Assistant professor and consultant, Caridac Surgeon, Z H Sikder Women's Medical College, Dhaka, Bangladesh. 8 years as Consultant Cardio Thoracic and Vascular Surgeon, Sahakarana Hrudayalaya, Pariyaram Medical College, Kannur.
Followed by 9 years as Senior Consultant Cardio- Thoracic and Vascular Surgeon Koyili Hospital, Kannur. There after 7 years as Visiting Surgeon and Head of Department of Cardio-Thoracic and Vascular Surgery at Sahakarana Hrudayalaya, Pariyaram Medical College, Kannur.
Area of expertise
Surgery for Coronary Artery Diseases
Minimally Invasive Cardiac & Thoracic Surgery
Aortic Surgery