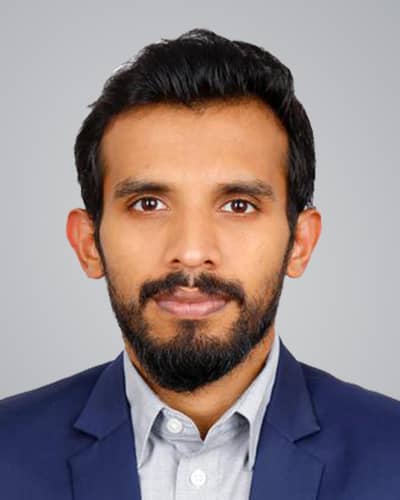 Dr. Vishnu G Krishnan
Specialist
MBBS, MD, Fellowship in Interventional Pulmonology
Overview
Dr. Vishnu G Krishnan, has good experience in the field of Interventional Pulmonology, Airway diseases and sleep medicine. He has undergone dedicated training in Interventional Pulmonology from one of the best institutes in India, Yasoda Hospitals, Hyderabad. He has gained clinical experience in the diagnosis and management of Respiratory diseases.
Dr. Vishnu has skills in the management of COPD, asthma, bronchiolitis, bronchiectasis, tuberculosis, 
infectious disease, pulmonary vascular disorders, occupational lung disease, pleural and mediastinal disorders, ILD, ABPA, vasculitis, malignancies of lung and pleura, and patients of pulmonary rehabilitation. He was a resident in the Department of Pulmonary Medicine at Amrita Institute of Medical Sciences, Kochi. Now working as lead Interventional Pulmonologist at the best pulmonology hospital in Kannur - Aster MIMS.
Area of expertise
Respiratory Thoracic Oncology
Rigid Bronchoscopy ( Central Airway Obstruction )
Interstitial Lung Diseases
Navigation Bronchoscopy ( Diagnosis of the peripheral pulmonary lesion )
BPF management
Palliative Care
Bronchial Thermoplasty
 
Other Similar Doctors