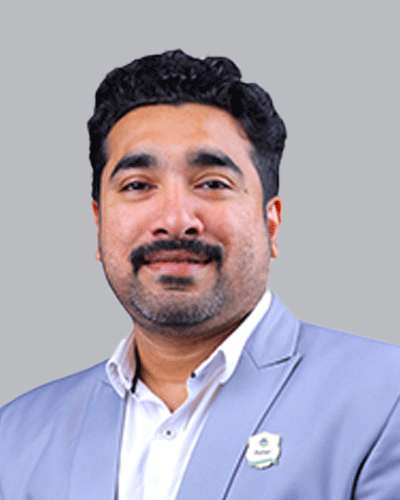 Dr. Rabeeh Parambil
Senior Specialist - Critical Care Medicine
MBBS, MD (Pulmonary Medicine), IDCCM (Critical Care Medicine)
Overview
Dr. Rabeeh Parambil completed his MBBS from SUT Medical College, Thiruvananthapuram, and his post-graduation in Pulmonary Medicine ( First Rank and Gold Medalist in Pulmonary Medicine) from SRM Medical College, Chennai. He has done his  Indian Diploma of Critical Care Medicine (IDCCM) from  Kovai Medical centre hospital, Coimbatore.
Dr. Rabeeh Parambil is qualified in the speciality of Intensive Care Medicine and has the expertise to deal with critically ill patients and is professionally trained to provide a point of care for Lung ultrasound and critical care echocardiography. He adeptly involves in the investigation and management of all kinds of respiratory diseases including COPD, Asthma, Lung cancer, Acute and chronic cough and so on. His area of interest is Advanced ventilatory management in ARDS patients, ultrasound in Critical Care, and Sepsis management.
Dr. Rabeeh Parambil has also performed complex procedures like Endotracheal Intubation, Percutaneous Tracheostomy, Invasive lines- CVC, Arterial lines, Haemodialysis Vascular catheters, Thoracentesis, Pigtail/Tube thoracotomies, Thoracoscopy and Bronchoscopy. He also trained in Managing ECMO and IABP patients.
Experience
2 years worked as a Senior Registrar in the critical care department at Kovai Medical Center and Hospital Coimbatore
1 year worked as a Consultant Pulmonologist at Daya Super Specialty Hospital, Tirur, Kerala
3 years worked as Senior Resident at SRM Medical College Hospital & Research Centre, Chennai
1 year Worked as Resident Medical Officer at Calicut nursing home, Calicut Kerala.
Area of expertise
Advanced ventilatory management in ARDS patients
ECMO
ultrasound in Critical Care
Sepsis management.
Other Similar Doctors