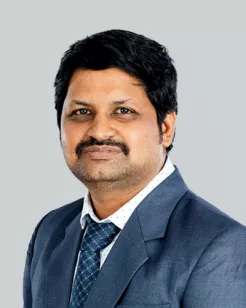 Dr. S Srikanth
Consultant - Anesthesiology
MBBS, MD - Anaesthesiology
Overview
Dr. S Srikanth is a consultant anaesthesiologist at Aster Narayanadri Hospital. Dr. S Srikant has completed his MBBS from S V Medical College, Tirupati, under Dr. YSR University of Health Sciences, formerly Dr. NTR University of Health Sciences. Later he completed his M.D. in Anaesthesiology from SVMS from 2010 to 2013. Then, from 2013 to 2014, he completed his post-doctoral fellowship.
Area of expertise
Managing cardiothoracic & Vascular surgery (CABG) valve replacement, ASD, VSD closure and aortofemoral bypass
Experienced in Neurosurgery such as spine surgeries, Intracranial tumours, cerebral aneurysms, clipping, posterior fossa tumours excision, and emergency surgeries. Surgical gastroenterology including laparoscopic surgery, Hepatic resection, and Whipple's procedure
Other specializations like surgical oncology, and urology including renal transplantation, gynaecology & obstetric surgeries, and ENT cases
Remote anaesthesia, ultrasound-guided nerve block
Providing anaesthesia with a full range of anaesthetic agents, methods & techniques in accordance with accepted professional standards and medical policies
AHA-certified BLS, ACLS provider (2023).
Expertise in ICU
Practising core critical care like sepsis, septic shock, ARDS
Invasive and non-invasive mechanical ventilation
Advanced hemodynamic monitoring
Point of care ultrasound in ICU All invasive procedures in ICU including IABP, Percutaneous, and tracheostomies.
Other Similar Doctors