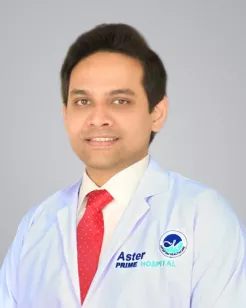 Dr. Abhiram Koganti
Consultant Gastroenterologist & Hepatologist
Overview
Dr. Abhiram Koganti is a Consultant Gastroenterologist & Hepatologist at Aster Prime Hospital. Dr. Abhiram Koganti completed his MBBS from Kakatiya Medical College in the year 2009. He then completed his M D in Internal Medicine from Deccan College of Medical Sciences, Hyderabad in the year 2014. He thereafter completed DM - Medical Gastroenterology from  Osmania Medical College & Osmania General Hospital in 2018, in which he stood statewide topper in his degree examinations.
Work Experience
14 years of Medical Experience, 5 Years of Experience in Gastroenterology, Hepatology, Diagnostic And Therapeutic Endoscopy.
Dr. Koganti worked at Gandhi Medical College & Hospital,(2009-10). Where he also pursued his compulsory Rotatory Residential Internship. He was then a Senior Resident in Dept. of internal medicine, Gandhi Medical College & Hospital (2014-2015), Senior Resident in Dept. of Gastroenterology in Osmania general hospital (Oct2018-Oct2019).
Dr. Koganti has also worked as a Consultant Gastroenterologist at Care Hospitals, Hyderabad.
Area of expertise
ERCP
Pancreatic & Biliary Stenting
SG & CRE Dilatation
Endoscopic Hemostasis-variceal & nonvariceal-APC
Bipolar coagulation
Hemoclip
Injection sclerotherapy
EVL banding
PEG tube placement
Polypectomy
EMR
Achalasia Dilatation
Esophageal metal stenting
Endoscopic Cystogastrostomy
Foreign Body Removal
LVP
Awards and recognitions
Osmania Medical College, Hyderabad, Telangana, India.
DM Medical Gastroenterology (State-wide topper DM Degree Examination) (2015-2018).
Membership and Honorary / Professional Societies:
MCI (Medical Council of India) Certified and Registered Medical Practitioner.
TSMC (Telangana State Medical Council) Certified.
IMA life time member.
ASGE subscribed member (American Society for GI Endoscopy).
INASL member (Indian National Association for Study of the Liver).
Research Activities
Prevalence Of N34 Smutation Of The Spink1 Gene in Chronic Alcoholic Pancreatitis. (Jan 2016–June 2017)
Clinical Profile Of Chronic Alcoholic Pancreatitis. (Jan 2016 – June 2017)
Comparison Of Lipid Profile Between Alcoholics & Non-Alcoholics. (Jan2012–Dec2014)