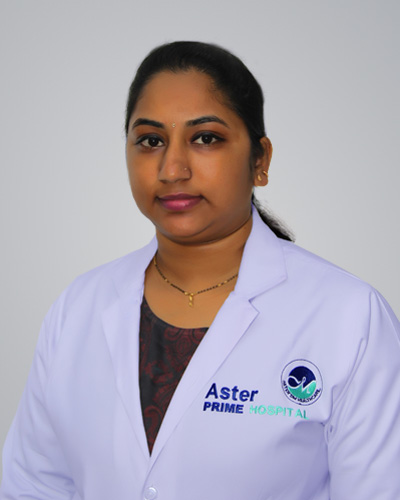 Overview
Dr. Spandana is currently working at Aster Prime Hospital, Ameerpet in the Department of Accidents & Emergency. She is trained in Emergency Medicine indirect patient care in high volume and high acuity emergency departments.
Instructor in AHA- BLS, ACLS, PALS, and a certified provider in ALTS. Dr. Spandana is Certified and completed a Comprehensive Critical Care course and CME by the Indian Society of Critical Care Medicine held at Calicut.
In 2016 she completed her Basic CME in Critical Care from Aster MIMS, Calicut.
Dr. Spandana completed her Faculty in Emergency Neurological Life support course in 2019 at Aster MIMS, Calicut.
Dr. Spandana has also attended the 2016 conference on Advanced Center for Trauma & Emergency Care, Gamet.
She has attended the 2016 conference of ISCCM.
Work Experience
Dr. Spandana started as a Duty Medical Officer - Internal Medicine in July 2013 at Deccan Hospital, Hyderabad till February 2014.
She joined Olive Hospitals in March 2014 as a Duty Medical Officer - Internal Medicine, Hyderabad, Telangana and was appointed till July 2017.
In August 2014 she joined Basavatarakam Indo American Cancer Hospital & Research Institute as a Junior Resident in the Department of Intensive Care Unit. At Basavatarakam Indo American Cancer Hospital & Research Institute she was performing a complete physical examination and wrote a full and comprehensive history and recorded it. 
Assessing the patient and writing her/his assessment and differential diagnosis of the problems as well as the plan of management. Discussing the admission orders with the consultant, including pertinent investigation and treatment plan.
Dr. Spandana was assisting in procedures and continuous monitoring of patients.
Dr. Spandana joined Aster MIMS, Kozhikode, Kerala in June 2016 as a MEM. She holds expertise and ability to deal with emergency patients of all age groups. 
Dr. Spandana has knowledge of critical care, emergency medicine, and trauma management.
Area of expertise
Dr. Spandana is an instructor cum provider in BLS, ACLS and PALS (monitoring and pending) and ALTS provider.
She is an expert in providing multiple life saving invasive procedures including advanced airway management, chest tubes and central IV access.
Dr. Spandana is an expert with administrative duties. 
Workshops
International Workshop Series, 2016- Advanced Airway Management.
Workshop on Palliative Care in Emergency Medicine, 2015.
Workshop on Basic Assessment and Support in critical care Medicine, Aster MIMS. 2016.
Attended Comprehensive Critical Care Course, SZC, 2015.
Publication & Scientific writing Workshop, Basic Immunology Workshop, CME- SZIRA con 2016.
Attended 7th International Workshop series - Vascular Access.
Faculty for various ACLS conducted at Aster MIMS, AHA - ITC.