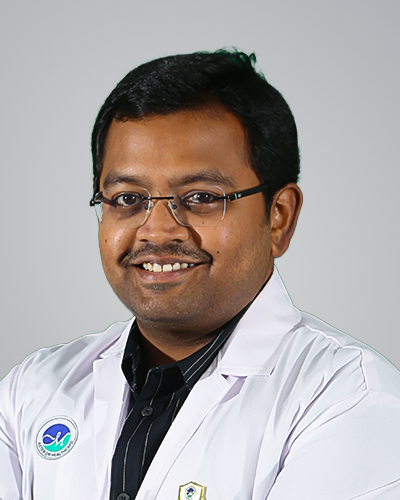 Dr. Dheeraj Kumar Anupa
Consultant - Medical Gastroenterology , Hepatology and Therapeutic endoscopy
Overview
Dr. Dheeraj Kumar Anupa is a seasoned medical professional with a remarkable journey spanning over 14 years. He pursued his MBBS at Sri Venkateswara Medical College and continued his academic journey with a Post Graduation (MD) from PES Institute of Medical Sciences and Research. He honed his skills during his Senior Residency at Viswa and later served as a Junior Consultant at Gleneagles Global Health City, Chennai.
Dr. Dheeraj Kumar Anupa diverse experience includes contributions toMedicover Hospitals, Bharati Medical College in Kurnool and a significant tenure at Gleneagles Global Health City, where he specialized in Medical Gastroenterology & Hepatology. His proficiency in diagnostic and therapeutic endoscopy is underscored by his work at AIG Hospital's Therapeutic Endoscopy Department.
His expertise extends to various specialties – from Diabetology and Nephrology to Cardiology and Neurology. Notably, he engaged with Jayadeva Institute of Cardiac Sciences and Nizams Institute of Medical Sciences during his postgraduate studies. Currently, as a Consultant Medical Gastroenterologist, Hepatologist, and Therapeutic Endoscopist at Aster Prime Hospital, Dr. Dheeraj Kumar Anupa continues to excel, embodying a legacy of excellence in patient care and medical innovation.
Area of expertise
Therapeutic Endoscopy procedures
Upper GI Endoscopy
Colonoscopy
Endoscopic Variceal banding
Sigmoidoscopy
Argon photocoagulation for GI bleed (Laser Therapy)
Polypectomy
Ulcer bleeding
Hemostasis
Foreign body removal
NASH /NAFLD
Pancreatitis
Gallstones
Chronic Liver diseases
Awards and recognitions
Best poster presentation at APAPICON 2017 – VISAKHAPATNAM "Rare Case Of Coexistent Systemic Bucellosis and Disseminated Extrapulmonary Tuberculosis in a Mentally Challenged Patient"

Best paper presentation at TNISGCON 2021 - THOOTHUKUDI " Double scope technique improves identification of OGJ in POEM "
Other Similar Doctors