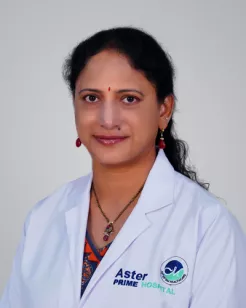 Dr. L Sunandhini
Senior Consultant Physician
Overview
Dr. Sunandini is the best physician in Hyderabad and a general physician at Aster Prime Hospital. She has completed MBBS from Sri Venkateswara Institute of Medical Sciences, Tirupati in 1997. Later, in 2003, she obtained MD in General Medicine from Osmania Medical College, Hyderabad.
She is a member of the Indian Medical Association ad API (Active Pharmaceutical Ingredient).
Dr. Sunandini is one of the most reputed general physicians in Hyderabad and has more than 18 years of experience in General Medicine.
Area of expertise
Diabetes
Hypertension
Fevers
Critical care
Thyroid disorders
Bronchial asthma