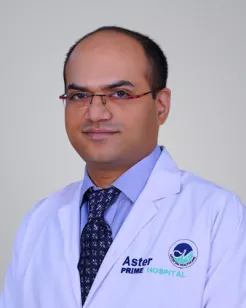 Dr. Rahul Ghogre
Consultant Interventional Cardiologist
Overview
Dr. Rahul Ghogre is a Consultant Cardiologist at Aster Prime Hospital. He completed his MBBS from Shyam Shah Medical College, Rewa in the year 2010.
He completed his MD in General Medicine in the year 2013 from Netaji Subhash Chandra Medical College, Jabalpur. In the year 2017, he completed his doctorate in medicine (DM) Cardiology from  Guwahati Medical College, Assam.
Work Experience
Consultant Interventional Cardiologist at Euracare Multi Specialist Hospital, Lagos, Nigeria.
Later in the year 2017, he joined Aster Prime Hospital as a Consultant Interventional Cardiologist.
Area of expertise
Cardiac Catheterisation
Implantable Cardioverter-Defibrillators (Icds)
Patent Ductus Artriosus Device Closure
Balloon Mitral Valvuloplasty
Complex Angioplasty procedures
Trans-radial coronary angiography
Post bypass graft angioplasty
Rotablation angioplasty for complex cases
Non-surgical closure of Ventricular septal defect
Atrial septal defect
Patient ductus arteriosus.