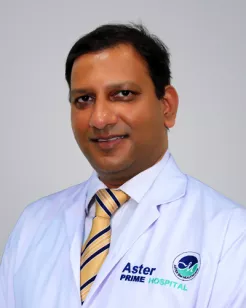 Dr. Rajendar Reddy Marri
MBBS,MS (Gen. Surgery), MRCS, FRGS (Urol.), CCT (UK), FEBU (Brussels)
Overview
Dr. Rajendar Reddy is a Consultant Urologist at Aster Prime.
He completed his MBBS from Osmania Medical College and MS-General Surgery from Kasturba Hospital, Manipal.
After which he worked for 14 years in the UK. During this time he completed his MRCS and FRCS (Urology) from Royal College of Surgeons, Edinburgh.
During this time he also obtained certification from the European Board of Urology. He completed his CCT from Post Graduate Medical Education and Training Board, UK in 2016 and worked as a Consultant Urologist in the UK for two and half years. He returned to India in January 2019.
He is passionate about teaching. He was an examiner for Undergraduate medical examinations at the University of Glasgow, UK till his return to India.
He was also a faculty member for the FRCS (Urology) courses conducted by the British Association of Urological Surgeons.
Work Experience
Prior to joining Aster Prime, he was a Consultant Urologist in Century Hospital, Banjara Hills, Hyderabad.
He has  14 years of experience in Urology in the UK including two and half years as a Consultant Urologist in Glasgow.
Area of expertise
Endourology

Rigid Ureteroscopy
Flexible Ureteroscopv (RIRS)
PCNL

Uro-Oncology

Laparoscopic and Open Radical Nephrectomy
Radical Cystectomy and Radical Prostatectomy
Robotic Surgery

Transplant - Renal Transplant
General Urology

TURP
TURBT
Optical Urethrotomy

Andrology

Nesbit's procedure
Semi-rigid and Inflatable Penile Implants
Awards and recognitions
Best poster presentation for the session, Congress of the Societe Internationale of Urologie, Glasgow, UK in 2014
Third prize for best poster in East Lancashire Medical Society meeting, Lancashire, UK in 2010
Finalist - TTMed Urology best clinical award (International competition for Urology residents) in 2010
Publications:
Mothukuri R, Marri RR, Sinha L. The Interactive PLAB OSCE book. Patna, India: Scientific book Co; 2006
Blackmur JP, Maitra NU, Marri RR, Housami F, Malki M, McIlhenny C (2016) Analysis of factors' association with risk of postoperative urosepsis in patients undergoing ureteroscopy for treatment of stone disease. J Endourol Endourol Soc 2016; 30(9):963–9
Ubee SS,Marri RR, Srirangam SJ. Pain related and overall morbidity with TRUS guided prostate biopsy--a prospective study. International Brazilian Journal of Urology. 2013;39(5): 671-4
Raja H, Marri RR, Srirangam SJ. The missed injury – bladder perforation. Core Surgery Journal. 2013 ;3(1): 42
Srirangam SJ, Marri RR, Crump A, Gunendran T, Nielson D. A prospective comparison of the performance of NMP22® Bladderchek assay and urine cytology in the detection of bladder transitional cell carcinoma. British Journal of Medical and Surgical Urology. 2011; 4(3): 113-8
Marri RR, Raja H, Srirangam SJ, Pillai MK. Ketamine induced bladder dysfunction. BJUI Case reports. Published on line Jan 2011
Marri RR, Raja H, Srirangam SJ, Pillai MK. Beware the Ketamine bladder. TTMed Urol (www.ttmed.com/urology) 2010: Dec.
Finalist in TTMed Urology best clinical case award for Urology residents
Marri RR, Bromage SJ, Darmalingum A, Banait G, Jones DA, Islam S. Jaundice following intravesical Botox: previously unreported complication. BMJ Case Reports 2010;10.1136/bcr.04.2010.2881
Addla SK, Marri RR, Daayana SL, Irwin PP. Avoid cruising on the Uroflowmeter: evaluation of cruising artifact on spinning disc flow meters in an experimental setup. Neurourol Urodyn. 2010; 29(7):1301-5
Ninan GK, Sinha C, Patel R, Marri RR. Dismembered pyeloplasty using double 'J' stent in infants and children. Pediatr Surg Int. 2009;25(2):191-4
Sinha CK, Haider N, Marri RR, Rajimwale A, Fisher R, Nour S. Modified prognostic criteria for oesophageal atresia and tracheo-oesophageal fistula. Eur J Pediatr surg. 2007 jun;17(3):153-7.
Marri RR, Bhaskar NK, Kumar PK. Efficacy of Drains in Postoperative period following a Latissimus Dorsii Free Flap surgery. Ind J Plastic Surgery. 2002; 37(2): 112.
Conference Proceedings:
International Conferences:
Mobile ESWL treatment for 1-2cm renal stones- results and complications
H Rooney, L Mokool, R Marri, A Ramsay, SK Nalagatla
35th World Congress of Endourology, Vancouver, sep 12-16th 2017
Lessons from Supine PerCutaneous NephroLithotomy series In a Scottish District General Hospital and description of Ureteric balloon catheter technique to manage difficult access
RR Marri, RS Khan, H Bekarma, AK Ramsay, SK Nalagatla
33rd World Congress of Endourology, London, Oct 1-4th 2015
Which factors are most likely to increase the risk of post-operative urosepsis in patients undergoing ureteroscopy for treatment of stones
NU Maitra, JP Blackmuir, M Malki, FA Housami, RR Marri, C McIlhenny
33rd World Congress of Endourology, London, Oct 1-4th 2015
Does pre-operative Urinary Tract Infection increase the risk of post-operative sepsis in patients undergoing Ureteroscopy?
NU Maitra, JP Blackmuir, M Malki, FA Housami, RR Marri, C McIlhenny
33rd World Congress of Endourology, London, Oct 1-4th 2015
Construct validity of operation time and volume of stone fragmented per unit laser energy as a marker of expertise in ureteroscopy and stone fragmentation.
JP Blackmuir, NU Maitra, M Malki, FA Housami, RR Marri, C McIlhenny.
33rd World Congress of Endourology, London, Oct 1-4th 2015
Factors influencing operative time for ureteroscopy and stone fragmentation.
JP Blackmuir, NU Maitra, M Malki, FA Housami, RR Marri, C McIlhenny.
33rd World Congress of Endourology, London, Oct 1-4th 2015
Metabolic evaluation of high risk stone formers in a district general hospital- what difference does it make?
RR Marri,F Housami, Holliday M, C McIlhenny
Congress of the Societe Internationale d'Urologie, Glasgow Oct 12-15th 2014
Intravesical sodium chondroitin sulphate in prevention of recurrent bacterial cystitis; validation, efficacy and development of practice
RR Marri, F Housami, J Todd, G Lamb
Congress of the Societe Internationale d'Urologie, Glasgow Oct 12-15th 2014
Assessment of Ureteric Injury Produced by Access Sheath Use in Flexible Ureteroscopy
F Housami, RR Marri, C McIlhenny
Congress of the Societe Internationale d'Urologie, Glasgow Oct 12-15th 2014
Predictive factors for stone clearance following ureteroscopy and laser lithotripsy
F Housami, RR Marri, C McIlhenny
Congress of the Societe Internationale d'Urologie, Glasgow Oct 12-15th 2014
Predicting Risk of Complications Following Ureteroscopy and Laser Stone Fragmentation
F Housami, RR Marri, C McIlhenny
Congress of the Societe Internationale d'Urologie, Glasgow Oct 12-15th 2014
The battle for TURP in UK
Marri RR, Venugopal S
British Association of Urological Surgeons annual conference, Jun 25-28th 2012
Is EAU guideline reliable in detecting bone metastases in men with Gleason score 7 prostate cancer?
Marri RR, Kanona H, Lynn N
European Association of Urology annual conference, Feb 24 – 28th 2012
The 'Ketamine bladder': an emerging public health problem?
Rajpal S, Marri RR, Green E, Srirangam SJ
31st Congress of the Societe Internationale d'Urologie, Berlin Sep 16 -20th 2011
Urethral catheterisation – An ancient art.
Rajpal S, Marri RR, Green E, Srirangam SJ
31st Congress of the Societe Internationale d'Urologie, Berlin Sep 16 -20th 2011
Is Laparoscopic partial nephrectomy feasible in a District General Hospital in U.K?
J Bycroft, RRMarri, F Mumtaz, G Webster
25th World congress of Endourology, Cancun, Mexico Oct 30th-Nov 3rd, 2007
Laparoscopic nephrectomy – Is this a District General Hospital procedure in U.K?
RR Marri, J Bycroft, F Mumtaz, G Webster
25th World congress of Endourology, Cancun, Mexico Oct 30th-Nov 3rd, 2007
Laparoscopic upper urinary tract cancer surgery–initial experience of a U.K center following initiation of a laparoscopic unit
Marri RR, Hussein M, Kommu S, Akhras F, Webster G, Mumtaz F
24th World congress of Endourology, Cleavland, Ohio, U.S.A 17-20th Aug 2006
Laparoscopic radical nephroureterectomy-a first line treatment for primary leiomyosarcoma of ureter.
Marri RR, Kommu S.S, Hussein M, Akhras F, Mumtaz F
24th World congress of Endourology, Cleveland, Ohio, U.S.A 17-20th Aug 2006.
General surgeons have a role to play in urological laparoscopic training
Hussein M, Tozer P, Marri RR, Engledow A, Webster G, Mumtaz F, Warren S
28th Congress of the Societe Internationale d'Urologie, Cape Town 12-16th Nov 2006
Cooperation between specialties is beneficial in laparoscopic urological training
Engledow A, Tozer P, Marri RR, Warren S, Webster G, Mumtaz F
10th World congress of Endoscopic Surgery, Berlin 13-16th Sep 2006
Laparoscopic radical nephrectomy in the U.K.- new consultants experience
Engledow A, Tozer P, Marri RR, Webster G, Mumtaz F
10th World congress of Endoscopic Surgery, Berlin 13-16th Sep 2006
National Conferences
Conservative management of Ureteric tumours
F Housami, RR Marri, S Teahan.
Scottish Urological Society annual meeting, 27-28th Feb 2014
Access Sheath Time and Degree of Ureteric Injury in Flexible Ureteroscopy
F Housami, RR Marri, C McIlhenny.
Scottish Urological society annual meeting, 27-28th Feb 2014
Does TRUS biopsies based on single raised PSA lead to unnecessary biopsies
Khan RS, Marri RR, Moghal S, Khan MH, Gurun RM
Scottish Urological society annual meeting, 19-20th Mar 2012
Late limb replantation
Marri RR, Bhaskar P, Kumar P
Annual conference - State Chapter, Assn of Surgeons of India, Davangere,24-26th Feb 2002
Optical Pathology of Breast Cancer
Marri RR, Ray S.S, Kurien J
Annual Conference –Indian Association of Surgical Oncology, Panchcula, 21-23rd Sep 2001
Internal Hemipelvectomy – our experience
Marri RR, Ray S.S, Kurien J
Annual Conference –Indian Association of Surgical Oncology, Panchcula, 21-23rd Sep 2001