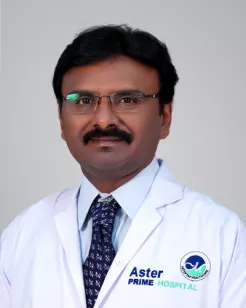 Dr. S Ravindra Kumar
Senior Consultant Physician
Overview
Dr. Ravindra is a General Physician in Hyderabad and a Consultant General Physician at Aster Prime Hospital. He completed his MBBS in 1992 and MD (Gen Med) from Guntur Medical College, Guntur, in 2000. Later, in 2010, he completed FIDM (Fellowship in Diabetes) from CMC Vellore in 2010. He is a member of the Research Society for the Study of Diabetes in India and Association of Physicians of India.
Dr. Ravindra is the best physician in Hyderabad. He started his career in teaching and was appointed as an Assistant Professor of Medicine at Osmania Medical College from 2002 to 2011. Later, he worked as an Associate Professor of Medicine from Osmania Medical College from 2011 to 2016. He was promoted as a Professor of Medicine in 2016.
Dr. Ravindra comes with a vast experience in Critical Care.
Work Experience
Dr. Ravindra was Assistant Professor of medicine at Osmania Medical College from 2002-2016.
He has also worked as a consultant physician at KPHB, Hyderabad.
Area of expertise
Intensive diabetic
Critical care
Other Similar Doctors