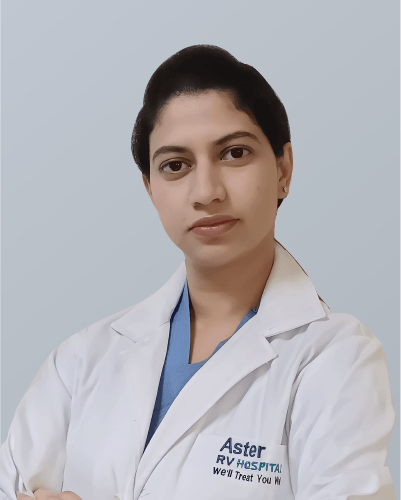 Dr. Bushra Bahjat
Consultant - Internal Medicine
MBBS, MD(Internal Medicine), PGDMH - CMC Vellore, PGME- Harvard Boston, USA
Overview
Dr. Bushra Bahjat is a proficient Internal Medicine specialist registered under the Karnataka Medical Council, India. Currently serving as - Consultant at Aster RV, Bengaluru, she completed her MBBS from V.I.M.S & R.C Whitefield Bangalore in 2013, followed by an MD in General Medicine from M.V.J Medical College & RH, Hoskote, Bangalore in 2017 and Post Graduate from CMC Vellore for PGDMH in Mental Health and PGME post graduation in medical education from Harvard medical school - Boston USA. Dr. Bushra Bahjat is a dedicated medical professional with a rich academic background. Her comprehensive expertise and dedication to patient care make her an invaluable asset in the field of Internal Medicine.
Dr. Bushra Bahjat is an exceptionally compassionate and caring physician. With valuable experience at leading Asian neurology institutes like NIMHANS, she has adeptly managed accident and emergency cases, critical care, and outpatient departments for over four years. Her professional focus lies in oncology and geriatric medicine, demonstrating a profound dedication to these fields. Dr. Bahjat is recognized for her collaborative approach, providing unwavering encouragement and support to every team member, thereby fostering an environment that brings out the best in the team. Patients can expect her to seamlessly collaborate with colleagues from various medical disciplines, ensuring comprehensive and holistic care.
Having served as an Intern Medical Officer at Vydehi Institute of Medical Sciences and Research Hospital, she continued her journey as a Junior Resident in the Department of Medicine at MVJMC and RH. With valuable experience gained, she took on the role of Consultant Physician at MN Specialty Clinic from 2015 onwards. Dr. Bahjat has further contributed her expertise at Royal Bangalore Hospital, ensuring a continued commitment to excellence in patient care and medical practice.
Area of expertise
Accident, emergency, critical care

Geriatric medicine.

Holistic Medicine.
Research
Autonomic dysfunction in type 1 diabetes

Autonomic dysfunction in MVP patients

Atypical manifestations in dengue

Sudden unexpected death in epileptics
Other Similar Doctors