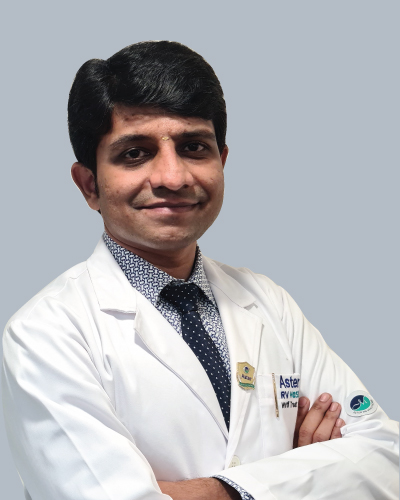 Dr. Gunda Srinivas
Consultant, Paediatrics Emergency and Paediatrics.
MBBS, DCH (ICH & HC), DNB (Pediatrics), PGDDN , FPEM
Overview
Dr. Gunda Srinivas is a well-known and highly trained Pediatrician currently working as Consultant, Pediatrics Emergency and Pediatrics at Aster RV Hospital, JP Nagar with more than 15 years of experience in the field of Pediatrics and Pediatric Emergency. Having trained at few of the best centres of child heath in india like Madras Medical College and also having worked at various well-known hospitals like Manipal Hospitals, ESIC Medical College, Rainbow Childrens Hospital, he brings in rich clinical experience to deal with child health problems. He has a unique exposure to technology and building Telemedicine systems providing the same acute care, triage services and consultations remotely. He brings a different perspective to children's emergency medical services .
Dr. Gunda Srinivas is a Part of editorial team of a well-known book Pediatric Emergency Medicine Course, 2nd edition, textbook on Pediatric Emergency Medicine published by Jaypee Brothers. He has organized the First ever Pediatric Emergency Medicine Hackathon as part of Pre conference workshops in NAPEM 2018 held at MS Ramaiah Medical College, Bangalore. He is one of the founder member of Pediatric Emergency Medicine Chapter of Indian Academy of Pediatrics.
He is Keenly interested in Technology, Telemedicine, Digital Health & Innovations in clinical processes, systems applied to pediatrics and delivery of clinical care  solving healthcare bottlenecks. He was the First prize winner as lead of Team RespirAid at National Finals of CAMTech Jugaadathon held at Delhi with 6 months of incubator support and cash prize of 10 lakhs to developed AmbuRespirAid(Automate Pump). He has Review Articles published on Healthcare Innovation and Design Thinking, Biodesign process & Grants, Funding, Awards and Recognition in Healthcare in Karnataka Pediatric Journal, September 2021.  
He has set up a Emergency fully functional Pediatric Unit at Aster RV in just 190 mins including emergency preparedness training which is first of its kind unit..! He has brought in many innovations to the unique 24/7 Children's Emergency department like Telefollow-ups to those kids who consult with him to handhold and guide the parents till the child recovers. He has implemented unique pain management techniques by using vapocoolant sprays, buzzy pain free devices and needle free injection devices for vaccination to make it a pleasant experience.
He believes in providing a pleasant experience to the child and family seeking health care services as pleasant as having a coffee at a coffee day or starbucks…!
Awards and recognitions
Publications
Srinivas G. Healthcare Innovation and Design Thinking. Karnataka Paediatr J 2021;36(2):87-93.

Chaturvedi J, Srinivas G. Grants, Funding, Awards and Recognition in Healthcare Innovation. Karnataka Paediatr J 2021;36(2):76-81.

Chaturvedi J, Srinivas G. MedTech Innovation using a structured Biodesign process: Barriers and Opportunities. Karnataka Paediatr J 2021;36(2):106-12.

Gopireddy Murali Mohan Reddy, Srinivas Gunda, Prasad Kompalli, Priyanka Gollapalli and Anjana Sevagamoorthy. Virtual doctor consultation, potential to revolutionise healthcare access in resource poor settings: opportunities and challenges, International Journal of Electronic HealthcareVol. 11, No. 3, Published Online:August 10, 2021pp 271-287.

Kalavagunta, Srividya & Kuppam, Sravani & M, Uma & Gunda, Srinivas & Bhat, Archana. (2021). Correlation between Body Fat Estimated from BMI and Bio Impedance Analysis among Population Working in IT Sector in Bangalore City - A Cross-Sectional Study. Journal of Evidence Based Medicine and Healthcare. 8. 1174-1180. 10.18410/jebmh/2021/226.

Rakshita Bhutale, Rajani V, Varsha Bhashyakarla, Srinivas Gunda, Archana Bhat. Experience and yield of mass breast screening among working women in major cities of India:a mixed-method study. Int J Reprod Contracept Obstet Gynecol. 2020Oct;9(10):4215-4220.
Other Similar Doctors