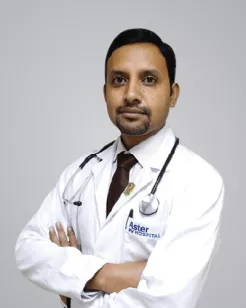 Dr. Pavan Yadav
Lead Consultant - Interventional Pulmonology & Lung Transplantation
Overview
Dr. Pavan Yadav is the Lead Consultant in Interventional Pulmonology and Lung transplantation at Aster RV hospital, Bangalore. He was instrumental in setting up the "Institute of Advanced Lung Diseases and Lung Transplantation" which has brought the comprehensive care of Pulmonary rehabilitation, ECMO services and Lung transplantation under one umbrella to initiate a successful Lung transplantation program at Aster Hospital, Bangalore.
After completing his post-graduation from IMS-BHU, he completed his fellowship training in critical care and sleep medicine from Chennai. He has been extensively trained in pulmonary interventions at Coimbatore and Bangalore for over 6 years. He received his training in ECMO and Lung transplantation at Global Gleneagles, Chennai under the mentorship of Dr. Sandeep Attawar, and has been working as part of one of the most successful lung transplantation programs in the country.
 
He has a keen interest in Pulmonary interventions, Lung transplantation and strives to achieve excellence in academics, research and clinical services. He has been an author of many national and international journals and research publications. He has been a faculty in many national conferences and CMEs.
Publications
Challenges, experiences, and postoperative outcomes in setting up first successful lung transplant unit in India
Article, May 2021 | Vijil Rahulan, Unmil Shah, Pavan Yadav, Sandeep Attawar
 
A successful rescue therapy with plasma exchange for rapidly progressive interstitial lung disease associated antisynthetase syndrome
Article, Jan 2021 | Roopa Tekkatte, Pavan Yadav, ShivrajKumar Venkatachala, Vinod Dibbur
 
Concordance of pre transplant radiological diagnosis with posttransplant explant histology of interstitial lung disease (ILD): A single centre study from India
Conference Paper, Sep 2020 | HS Sandeepa, Vijil Rahulan, Apar Jindal, Sandeep Attawar
 
AIRWAY COMPLICATIONS POST LUNG TRANSPLANTATION: LARGEST SINGLE CENTER INDIAN EXPERIENCE
Article, Jun 2020 | Vijil Rahulan, Pavan Yadav, A. Jindal, S. Attawar
 
A Study of Combined Endobronchial Ultrasound-Guided Transbronchial Needle Aspiration and Transbronchial Cryobiopsy (E-TBNA/TBCB) to Define the Significance of Enlarged Mediastinal Lymph Nodes in Patients with Interstitial Lung Disease: An Epiphenomenon or More?
Conference Paper, May 2020 | R.S. Bhat, Pavan Yadav, Hari Prasad, Ravindra Mehta
 
First Series of Combined Heart & Lung Transplantation from India
Presentation, Apr 2020 | Pavan Yadav, Vijil Rahulan, Sandeep Attawar
 
First Series of Combined Heart & Lung Transplantation from India
Article, Apr 2020 | Vijil Rahulan, Pavan Yadav, A. Jindal, S. Attawar
 
Interventional management of extensive pulmonary metastasis in adamantinoma
Article, Mar 2019 | Pattabhi Raman Vallandramam, Pavan Yadav, Arjun Srinivasan, A. Shankar
 
Interventional management of extensive pulmonary metastasis in adamantinoma
Article, Jan 2019 | Pattabhi Raman Vallandramam, Pavan Yadav, Arjun Srinivasan, Annapoorni Shankar
 
Life-Threatening Massive Hemoptysis: A Unique Option Using Customized Endobronchial Silicone Blocker
Article, Sep 2018 | Pavan Yadav, Ravindra Mehta
 
Transesophagealbronchoscopic ultrasound- guided fine-needle aspiration (eus-b-fna) in pediatric mediastinal lymphadenopathy: a case series, and comprehensive review of literature
Article, Aug 2018 | Pavan Yadav
 
PET-CT high-SUV mediastinal lymph nodes (MLN) in primary or treated extrathoracic malignancy "Not all that lights up is malignant"
Poster, Nov 2017 | Pavan Yadav
 
A multicenter study on the safety and efficacy of different methods for obtaining transbronchial lung cryobiopsy in diffuse lung diseases
Article, Nov 2017 | Sahajal Dhooria, Ravindra Mehta, Arjun Srinivasan, Ritesh Agarwal
 
PET-CT high-SUV mediastinal lymph nodes (MLN) in primary or treated extrathoracic malignancy – "Not all that lights up is malignant"
Conference Paper, Sep 2017 | Pavankumar Biraris, Pavan Yadav, Kumar G Kallur, Ravindra Mehta
 
Whistle lower-better late than never
Article, May 2016 | Arjun Srinivasan, Mahadevan Sivaramakrishnan, Pattabhi Raman Vallandramam, Pavan Yadav
 
Efficacy and Safety of Povidone Iodine Pleurodesis in Spontaneous Pneumothorax
Article, Oct 2015 | Arjun Srinivasan, Pattabhi Raman Vallandramam, Mahadevan Sivaramakrishnan, Pavan Yadav
 
Diagnostic Value of Cytology, Gene Xpert, and Mycobacterial Cultures in EBUS-TBNA Aspirate
Article, Oct 2015 | Pattabhi Raman Vallandramam, Arjun Srinivasan, Mahadevan Sivaramakrishnan, Pavan Yadav
 
Role of medical thoracoscopy in multiloculated effusions and empyema: Review of 52 cases
Article, Sep 2015 | Arjun Srinivasan, Mahadevan Sivaramakrishnan, Pattabhi Raman Vallandramam, Pavan Yadav
 
Response to assessment of spontaneous pneumothorax in adults in a tertiary care hospital
Article, Jul 2015 | Arjun Srinivasan, Mahadevan Sivaramakrishnan, Pattabhi Raman Vallandramam, Pavan Yadav
 
Weight gain in patients with Obstructive Sleep Apnea (OSA) on Positive Airway Pressure (PAP) therapy – Myth or Reality?
Article, Dec 2013 | Anup Bansal, Pavan Yadav, Nagarajan Ramakrishnan
 
A Rare Extra-Pulmonary Presentation Of Tuberculosis As Gum Tuberculosis
Article, Sep 2013 | Govind narayan Srivastava, Manoj Meena, Pavan Yadav, V Kumar
 
Elevated plasma microparticles in chronic obstructive pulmonary disease
Conference Paper, Jul 2013 | Paresh P. Kulkarni, Pavan Yadav, Jai KUMAR Samaria, Debabrata Dash
 
Cardiac Involvement In Chronic Obstructive Pulmonary Disease (COPD) Secondary To Post TB Bronchiectasis V/S Non PPost TB Bronchiectasis
Conference Paper, May 2012 | Jai KUMAR Samaria, Hemant Kumar, Pavan Yadav
 
Poor quality of health services at primary care level is the leading cause of uncontrolled asthma in India
Conference Paper, Sep 2011 | Jai KUMAR Samaria, Moosa Hussain, Pavan Yadav, Saket Sharma