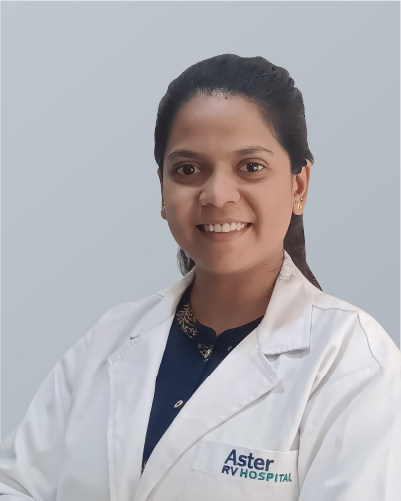 Dr. Rachitha N S
Specialist - Dental Medicine
Overview
Dr. Rachitha N S is  a Presently she is working as a Specialist at Aster RV, Bengaluru.
She graduated with a Bachelor's in Dental Surgery from KVG Dental College and Hospital, Sullia, Dakshina Kannada (August 2014 – October 2019)
Dr. Rachitha is a highly accomplished and dedicated Dentist with a diverse and extensive background in the field of dentistry.
Dr. Rachitha has accumulated valuable experience in patient management and medical issue handling. As an intern at KVG Dental College, her active involvement in multiple CDE Programs and contributions to dental screening, treatment camps, and oral health education programs in Sullia and Dakshina Kannada demonstrate her commitment. Furthermore, she completed a one-month individual peripheral rural posting at Sullia and Puttur Government Hospitals. Following this, she served as a Junior Dentist in a private clinic for five months from November 2019 to March 2020. Subsequently, she worked as a Resident Dentist at Apollo Clinic in Mysore for 1.7 years, from December 2020 to June 2022.
Area of expertise
In-patient diagnosis, treatment planning, and management.
Proficient in the independent use of dental tools
Specialization in complete denture and removable partial denture prostheses
Usage of various dental filling techniques, including GIC, composite, amalgam, and ZnO eugenol.
Strong verbal, written communication, and presentation abilities.
Awards and recognitions
Attained the second position in RGUHS for General and Dental Pharmacology and Therapeutics.
Achieved the seventh rank in RGUHS for Conservative Dentistry and Endodontics.
Other Similar Doctors