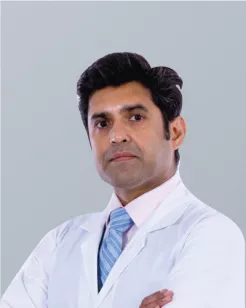 Dr. Sandeep Attawar
Chair & Director of Thoracic Organ Transplants
MBBS, MS (Surgery) M.CH (CTVS)
Overview
Dr. Sandeep Attawar, Consultant, Aster RV Hospital is one of India's most coveted surgeons in the field of heart and lung transplantation. He has a vast years of experience. Dr. Attawar has a keen interest in performing Heart Transplants, Lung Transplant Surgery, Open Heart and Paediatric Heart Surgeries and is widely recognized for performing a variety of surgical procedures on patients ranging from neonates to elderly. He is an active member of international cardiothoracic forums such as the International Society for Heart and Lung Transplantation (ISHLT), Society of Thoracic Surgeons (STS ) and the European Association of cardio-thoracic surgery ( EACTS ).e. He further specialized in Cardiac surgery at the Sri Chitra Thirunal institute, Trivandrum. and has played a key role in establishing three major heart center's in India and overseas. Dr. Attawar firmly believes in universal access to quality care and outcomes in heart and lung transplants and continuously strives to provide the highest quality of care to patients.
For his several contributions to the field of medicine and transplantation, Dr. Attawar has been included in an international panel of 24 experts at the International Society for Heart and Lung Transplantation that has been constituted to form the consensus guidelines for Lung Transplantations.
These guidelines are followed by over 250 hospitals across the globe. He is regarded as one of the best cardiac surgeons for cardiac failure, bypass surgery, pediatrics heart surgery, valve repair, replacement surgery, and heart hole closure surgery. His team have performed close to 450+ thoracic organ transplants (of which 252 were Double lung transplants, 103 Heart transplants & 48 Combine Heart & Lung transplants) in this period, with over 48 left ventricular assist device implants. Dr. Attawar & his team have currently performed 30 successful double lung transplants on patients with end stage COVID damaged lungs. This is one of the largest series of lung transplants for this emerging disease in the world.
Awards and recognitions
Current president of Indian society of heart and lung transplant(INSHLT)
Active member of INSHLT, Society of thoracic surgeons(STS) and the European association of cardio-thoracic surgery(EACTS). 
Contributor for the textbook of "Tranplantation & Mechanical circulatory support for end stage lung and heart disease" .
Pioneer in India's first breathing lung transplant (XVIVO perfusion).
Founder of the institute of lung bioengineering at KIMS. 
Scientific advisor for reliant heart and is involved in advancing LVAD. 
Proctor for heart mate II & III, JARVIK HEART for India and south east asia.
Other Similar Doctors