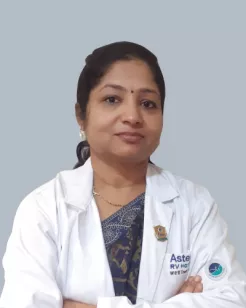 Dr Sangeeta V Budur
Consultant - Paediatrics & Paediatric Intensive care
MBBS, MD (Paediatrics), FNB (Paediatric Critical Care)
Overview
Dr Sangeeta V Budur is an experienced Consultant Pediatrician and Paediatric Intensivist at aster Rv, Bangalore. She caters to sick children from newborn up to 18 years. At Aster RV Hospital, Dr Sangeeta is available in the OPD for vaccination, General health check, growth and development assessment, common illnesses like respiratory, gastrointestinal infections   and pediatric emergencies.
Dr Sangeeta is a trained Paediatric intensivist of 15 years' experience and specializes in transporting, stabilizing, and treating sick children in the PICU. She has an excellent academic background having completed MD Pediatrics from Bangalore medical college (Bangalore), FnB in pediatric critical care (fellowship in national board) from Narayana hrudayalaya , Bangalore.
Dr Sangeeta  has expertise in managing sick kids with severe cardiorespiratory failure acute renal failure  needing renal replacement therapy, liver failure requiring liver transplantation, myocarditis, post-surgical and post operative cardiac patients and complex neuro critical cases. She has ample  experience in various PICU procedures like intubation, ultrasound guided central venous line, arterial line insertion, PICC Lines, POCUS, dialysis catheter insertion, Intracranial pressure monitoring etc. She also has been part of an PICU that routinely manages pediatric post liver and kidney transplant and post bone marrow transplant , post operative cardiac patients .
Prior to joining Aster RV, she has worked as Intensivist and consultant at various prestigious hospitals like Bangalore hospital, St.Johns medical college and hospital, Rajrajeshwari medical college and hospital, Narayana hrudayalaya hospital  where she has managed complex, sick neonates, and paediatric patients. She has also experience in teaching Undergraduate MBBS and post graduate MD pediatric  students. She is also trained in Paediatric Advanced Life Support (PALS) and Neonatal Resuscitation Programme. 
In addition, she has attended as faculty for various state level & national level conferences. She has actively participated as faculty in many workshop programmes.
Area of expertise
Paediatric Critical Care

Point of Care ultrasonography

Simulation based training.

Renal Replacement Therapy

Post BMT and Post Transplant Care.

post operative cardiac patients

Neurocritical care
PUBLICATIONS and PRESENTATIONS:
Severe maternal anemia and neonatal outcome original articlesch.j.App.Med.sci.2014:2(1c):303-309( indexed in index Copernicus, google scholar)(1st author)

Clinico-etiological profile, need for lumbar puncture , prevalence of meningitis in children with first episode of febrile seizures- sch.Acad.J.Biosci 2014;2(9):595-599(PUBMED INDEXED)(1st author)

A study of cough trick technique in reducing vaccination prick pain in adolescents -Indian journal of pain |may-august 2014|volume 28|issue 2(PUBMED INDEXED)(2nd author)

A novel case of muscle eye brain disease in an immigrant family in India 88/Journal of pediatric neurosciences/volume9/Jan-Apr/2014(PUBMED INDEXED)(1st author)

Acute idiopathic hemorrhagic pancreatitis in a child – sch. J Med Case reports 2013;1(3):101-103(1st author)

Mallignant infantile osteopatrosis – a rare cause for anemia with Leucoerthroblastic blood picture– in Journal of evolution of medical and dental sciences(JEMDS)/volume 2/issue 51/ December 23, 2013(2nd author)

Idiopathic acute onset pulmonary artery hypertension in infancy need for research.Int J Contemp Pediatr. 2017 Nov;4(6):2050-2054 (1st author)

Clinical Profile of Hand, Foot, and Mouth Disease and its Associated Complications among Children in Shimoga City, Southern Karnataka: A HospitalBased study (2nd author)
MEMBERSHIP:
Indian Academy of Pediatrics

Indian Medical Association

Pediastar India
Awards and recognitions
Best outgoing student with academic excellence  from B.L.D.E B.M PATIL medical college during   MBBS .

Faculty at various state & national level conference and workshops.

IAP PALS INSTRUCTOR, FACULTY PEDISTAR INDIA
Other Similar Doctors