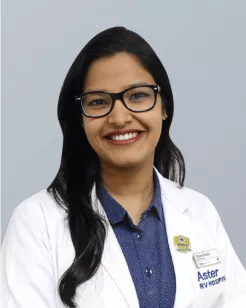 Ms. Palak Dengla
Chief Physiotherapist
Overview
Dr. Palak Dengla, HOD Physical Medicine & Rehabilitation at Aster RV Hospital, Bangalore. She is a Physiotherapist with 11 years of experience. Dr. Palak is trained in Physiotherapy – a specialized, therapeutic branch of medical science that helps enhance/ promote mobility and functional ability lost due to injury or illness, by restoring the use of muscles, bones, and the nervous system, in patients of all ages.
Once visited, patients love to continue their rehab with her because of her warmth and patient centric holistic approach.
She has varied experience across Multispeciality hospitals in Mumbai like Kokilaben Ambani hospital, Asian Heart Hospital, Nanavati Hospital, Fortis Hospital, Prakruti Sports Centre, and Manipal Hospital in Bangalore. She has had the opportunity to heal many of the Bollywood celebrities and Sports Personalities.
Dr. Palak has an unquenchable thirst for knowledge, keeps herself abreast with the recent advances in the field. She is an MPT, Alumni of Prestigious Manipal University (MAHE).
Area of expertise
She is a firm believer of exercise based Manual Therapy over electrical modalities for treating her patients from their root cause.
She's specialised in providing comprehensive and evidence-based Ortho Rehab (OA knee, neck pain, low back pain, post op rehab), Ergonomics, Cardiac rehab (Coronary Bypass Surgery, PTCA, Preventive Cardiology), Pulmonary Rehab (Asthma, ILD, COPD), Neuro Rehab (Stroke, Spinal cord injury, Parkinsonism), Rheumatic pains, Oncology Rehab, Geriatric rehab (balance related issues and osteoporosis).
Her special interest lies in Prehab and Rehab of patients posted for Heart, Lung, Kidney, and Liver Transplants.
Dr. Palak is a passionate expert in Antenatal & Postnatal Pilates in Pregnancy.
Certifications:
Pilates in Antenatal and Postnatal Care – Dr. Snigdha Mehta
Advances in ACL and Shoulder Rehabilitation
On-Field Assessment & Management of Sports Injuries - Evan Speechly & Gereth
Neuro Myoskeletal Dry Needling Therapist (Level 1 and 2)
Cancer Rehabilitation, Tata Hospital – Dr. Vincent Singh
Mulligan Concepts - Dr. Deepak Kumar
Kinesiology Taping (Level 1 &2) - Dr. Jacqoui Mccord
Exercise Testing and Prescription - Peter Brubaker & Larry Hamm, ACSM
Advances in Motor Control – Dr. Mindy Levin & John Solomon.
Memberships: 
Indian Association of Physiotherapists
Basic Cardiac Life Support (CPR) (S-7413)
Publications and Blogs: 
https://thepharmatimes.in/can-mouth-breathing-cause-dark-circles/ - June 2023
https://www.apnnews.com/buteyko-breathing-technique-to-combat-asthma/ - May 2023
https://bangaloremirror.indiatimes.com/bangalore/others/wfh-mind-your-posture/articleshow/100022429.cms - May 2023
https://www.newindianexpress.com/cities/bengaluru/2023/mar/16/therightfit-importance-of-choosing-the-right-footwear-2556379.html - March 2023
https://youtu.be/ApJZkTqpa94 - Mar 2022
https://www.newindianexpress.com/lifestyle/health/2021/nov/07/workout-for-the-lungs-2379736.html - Nov 2021
https://thedailyguardian.com/7030-step-diet-the-new-fitness-mantra/ - May 2021
https://www.newindianexpress.com/cities/bengaluru/2021/jun/24/breathing-easy-2320516.html - June 2021
Other Similar Doctors