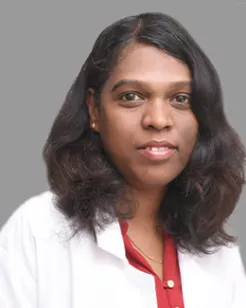 Dr. Sumithra S
Consultant - Paediatrics & Paediatrics Intensive Care
MBBS, DCH, DNB, (Paediatrics), IDPPM PICU Fellowship (BCH UK) Cardiac ICU / ECMO Fellowship (GOSH UK)
Overview
Dr. Sumithra S is Pediatric intensivisit / Pediatrician who joined as consultant in our newly formed team of young and dynamic intensivist who would be thriving to provide best of care in safe environment to children in need of critical care at our Aster women and Child care center Whitefield, Bangalore. She been trained both in india as well abroad ( UK ) with 11 year experience of caring for children.
Dr. Sumithra S did her DCH From Indra Gandhi institute of child care, Bangalore and DNB pediatrics from St. Philomenas Hospital Pediatric following which she completed pediatric intensive care fellowship from St. Johns Research institute and Medical college and continued there as assistant professor in pediatric intensive care unit.
After training and working in pediatric intensive care In India, she had further training in Advance Pediatric Critical care in one of the biggest pediatric Intensive care unit in UK Birmingham Children's Hospital where she not only learnt about caring for children in need of critical care, she also acquired knowledge and skills to support children requiring Organ Transplant (Liver and Renal).
Her area of interest been in cardiac care. She had her training at prestigious children hospital Great Ormond Hospital London In Pediatric Cardiac Critical care, Child in Need of ECMO support and Lung and Heart transplant. She has also participated as a delegate and faculty in conferences and workshops.
She has been Advance Pediatric Life support instructor and has been involved in training and pediatrician and nurse about basic life support and advance life support.
Area of expertise
Pediatric Intensive Care
Post-op Cardiac Critical Care Support
Cardiac Critical Care Support
CRRT (Renal replacement Therapy)
POCUS - Point of care Ultrasound in ICU
 
Membership
IAP Intensive Care Chapter
IAP Membership
National Neonatal Forum India ( NNF ) Membership
General medical council
MCI /KMC
 
Publications
Predictors of the failure of non-invasive ventilation in children with acute respiratory distress: A prospective observational study - Corresponding author - Indian Journal of Child Health, 6(1), 6-11 2019.
Human Bocavirus (HBoV) Infection: An associated Life Threatening Respiratory illness --Corresponding author - Journal of Pediatric Critical Care 2018.
Predictors of success of high flow nasal cannula (HFNC) therapy in children with respiratory distress in pediatric intensive care unit - Third Author - Journal of Pediatric Critical Care 2018.
Anemia and blood transfusion in children with septic shock: Does it affect outcome? A prospective observational study - Third Author January 2018 - Indian J Child Health 5. Post-operative challenges in pediatric renal transplant: Nephro-intensivist perspective - First and Correspondent Author Journal ofPediatric Critical Care.
Acute kidney injury with thrombocytopenia : Third Author Journal of Pediatric Critical Care 2018.
DIC - Chapter Author - IAP Text Book PICU protocol.
Urinary Catheterization Chapter Author IAP Text book of Pediatric and Neonatal Emergencies.