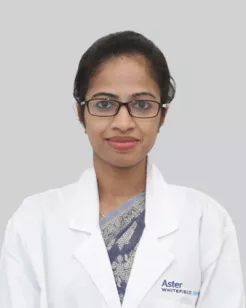 Dr. Kristin George
Consultant - Nephrologist & Renal Transplant
MD (Internal Medicine), DM (Nephrology)
Overview
Dr. Kristin completed her MBBS from the renowned government institute, Bangalore medical college and research institute (BMCRI), in 2012. She was conferred with a gold medal in Internal medicine during the convocation in 2013 by ex-President Shri A.P.J Abdul Kalam. Soon after, she joined MD Internal medicine at BMCRI in the year 2013. With a keen interest in Nephrology, she topped the entrance exam for DM Nephrology and pursued super-specialization (DM) at the prestigious All India Institute of medical sciences (AIIMS), New Delhi.
She has expertise in managing varied kidney diseases including high-risk kidney transplantation, glomerular diseases, hypertension, hemodialysis, peritoneal dialysis and critical care nephrology. She has considerable experience in performing procedures like hemodialysis catheter insertion, permcath insertion, kidney biopsy and CAPD catheter insertion. With her experience and expertise, she offers comprehensive and individualized treatment plans that are tailored to each patient's needs.
Area of expertise
Hemodialysis.

Diabetic kidney disease.

Glomerular diseases.

Acute kidney injury (AKI) and chronic kidney disease (CKD).
Awards and recognitions
Best paper award at North Zone- ISN conference (28th Feb- 1st March 2020) held at SGPGI, Lucknow for "Acid-base disturbances in renal transplant patients- A prospective observational study".

Poster presentation at the international society of nephrology (ISN Frontiers) conference on Infections and the kidneys titled "Acute kidney injury in critically ill patients of COVID-19: A single centre study from India".

Gold medal for Internal medicine during MBBS: Bangalore medical college and research institute.
Membership
Indian Society of Nephrology (ISN).

Indian Society of organ transplantation (ISOT).

Life member of the Indian medical association (IMA).
Paper Published
Metabolic acidosis in the initial 6 months after renal transplantation: A prospective study. Kristin George, Upadhyay AD, Subbiah AK, et al. Nephrology. 2021;1-7.

Utility and patient acceptance of telemedicine in nephrology. Kristin George, Arun Kumar Subbiah, Raj Kanwar Yadav, Soumita Bagchi, Sandeep Mahajan, Dipankar Bhowmik, Sanjay Kumar Agarwal. Journal of Nephrology. 2022;35(9):2325-2331.

Arun Kumar S, George K, Mahajan S. Infections and kidney. Wander GS (ed). Postgraduate Medicine 1st Edition. Delhi: Jaypee Brothers; 2022:1338-1342.

Kristin George, Soumita Bagchi. Mycophenolate mofetil. Textbook of kidney transplantation 1st Edition. Delhi: Jaypee Brothers; 2022: 120-125.

A Subbiah, K George, SK Agarwal KNOWLEDGE, ATTITUDE AND ACCEPTANCE OF TELENEPHROLOGY SERVICES AMONG PATIENTS IN NEPHROLOGY: A STUDY FROM INDIA - Nephrology Dialysis Transplantation, 2021.

Pairu J, Bharathi KN, George K. Maternal and perinatal outcome in pregnancy-induced hypertension and preeclampsia. International Journal of Reproduction, Contraception, Obstetrics and Gynecology 2016;5:2166-70.

K. Ravi, George Kristin COMMONLY DISCUSSED BUT RARELY SEEN Journal of Internal Medicine, Research, Reviews, Reports 2016; 4(1).
Other Similar Doctors