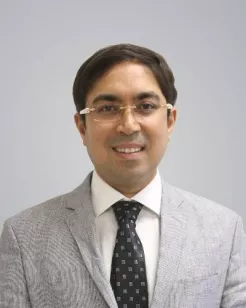 Dr. Kumardev Arvind Rajamanya
Head of Department (HOD) & Lead Consultant - Orthopaedics
MBBS, MS (Orthopaedics), Fellow-Complex Trauma & Minimally Invasive Fracture Surgery (AO SYNTHES), Fellow-Hip & Knee Joint Replacement/Reconstruction (SMART), Fellow-Shoulder & Knee Arthroscopy/Sports Medicine (SMART)
Overview
Dr. Kumardev Arvind Rajamanya, is one of the leading and well-known Orthopaedic Surgeons in Bangalore, currently working as Lead Consultant and Head Of Department,Orthopaedics in Aster Hospitals, Whitefield, Bangalore.
He has completed MBBS from Dr. B.R. Ambedkar Medical College (RGUHS), Bangalore, and MS. Orthopaedics from JSS Medical College (RGUHS), Mysore.
He received further training in Ganga Medical Centre and Hospitals, Coimbatore, a 520 bedded exclusive center for Orthopaedics and Plastic surgery, one of the largest in Southeast Asia, considered to be a Mecca for a variety of orthopaedic related ailments and its management.
He obtained AO-SYNTHES Complex Trauma Fellowship from Medical Trust Hospital, Kochi, a 750 bedded super-speciality critical care referral hospital, where he managed complex trauma, polytrauma and reconstruction surgeries, based on principles, appropriate pre-operative planning and decision making.
He has worked as a Senior Registrar in Sagar Hospital, one of the top tertiary care hospitals in Bangalore.
He completed Fellowship in Hip and Knee Joint Reconstruction/ Replacement (SMART) along with Fellowship in Shoulder and Knee Arthroscopy / Sports Medicine (SMART),  in Sunshine Hospital, Secunderabad; a high volume centre.
He enriched his experience with stints in Shalby Hospital, Ahmedabad, a globally acclaimed leader and largest joint replacement center in Southeast Asia, and MAX Hospital, Chandigarh, a well-known Orthopaedic Centre.
He joined Manipal Hospital, Old Airport Road, Bangalore, one of the pioneer healthcare providers in India, as an Associate Consultant.
He was a Consultant Orthopaedic Surgeon in Manipal Hospital, Whitefield, Bangalore, since the time of its inception and instrumental in the department's growth, having individually performed over 1500 surgeries, 350 Joint replacements with 160 of them in 2022.
Having worked with illustrious surgeons and in world-renowned institutions has helped him craft his skills and develop an ethical approach towards patient care and betterment, prioritizing patient safety and clinical outcomes.
The qualifications he has acquired is a testimony to his surgical expertise and dedication to this field.
He has been actively involved in DNB teaching programs previously and keeps himself abreast of the latest surgical and academic advancements by regularly attending conferences and CMEs.
His areas of expertise include management of General Orthopaedics and Musculoskeletal disorders, Complex Trauma and minimally invasive fracture surgery, Hip and Knee Joint Reconstruction/ Replacement, Shoulder and Knee Arthroscopy, and Sports Medicine and Ligament Reconstructions.
Having been a State and National Shuttle Badminton Champion, and trained in the premier Prakash Padukone Badminton Academy, he understands the gravity of sports injuries and has a special interest in their prevention and management.
Area of expertise
Musculoskeletal Disorders  

Complex Trauma / Polytrauma Management 

Minimally Invasive Fracture Surgery  

Paediatric Trauma Management 

Joint Preservation Procedures.

Hip and Knee Joint Replacement/Reconstruction - Primary, Complex Primary and Revision

Knee and Shoulder Sports Medicine/Arthroscopy  

Sports Injuries management, Ligament Reconstruction and Rehabilitation 

Acute Orthopaedic Emergencies  

Deformity Correction  

Arthritis Management -conservative/surgical.

Geriatric Orthopaedics

Osteoporosis Management
Awards and recognitions
KOACON-2010- Tibia procurvatum, sequelae of chronic osteomyelitis, deformity correction

OSSAPCON-2015- Arthroscopic management of acute Acromio Clavicular joint dislocation with dog bone button

POSTER- OSSAPCON-2015- Arthroscopic latarjet for anterior instability shoulder

E poster presentation - SICOT 2019- World Orthopaedic Congress, Muscat, Oman- Novel fixation of medial condyle fracture with Hoffa's element in trifocal fracture femur.

KOACON 2020, Bellary- Faculty- Complications in Primary TKR

AO TRAUMA 2021- National faculty- Trauma workshop- Basic principles of Trauma management 

NAILSCON- AITCON 2022- National faculty

AO TRAUMA 2022- National faculty for Trauma workshop- Basic principles of Trauma Management 

KATHROCON 2022, Kalburgi- Faculty- Joint Replacement. 

AO - Pre-Basic, Advanced and Masters- Principles of Trauma Surgery and Fracture Management.
Publications:
Deepak MK, Jain K, Kumardev AR, Gandhi PR, Rupakumar CS, Ravishankar R. Functional outcome of diaphyseal fractures of femur managed by closed intramedullary interlocking nailing technique in adults. Ann Afr Med, 2012 Jan-Mar: 11(1):52-7.
Rajamanya KA, Marappa G. Successful single stage management of trifocal femoral fracture associated with distal medial condolences and Hoffa's component by a novel technique. Int J Res Orthop 2022;8:751-6
Research- Study on Surgical Management of Supracondylar Fractures of Humerus in Children.
Membership:
Karnataka Medical Council
Bangalore Orthopaedic Society
Karnataka Orthopaedic Association
Indian Society Hip and Knee surgeons (R-01-028)
Indian Medical Association (Life Member)
Cochin Orthopaedic Society(C-K-66)
Indian Orthopaedic Association (LM-11188)
Tamil Nadu Orthopaedic council (LM-K-98)
Other Similar Doctors