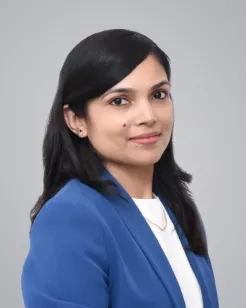 Dr. Sweta Patel
MBBS, DOMS, DNB (Ophthalmology)
Overview
Dr. Sweta Patel has completed her MBBS from JJM Medical College Davangere during 2008-2013.
2013-2014, she completed a compulsory rotating internship which included all specialities of Medicine.
2015-2017, she completed Diploma in Ophthalmic Medicine and Surgery from Bangalore Medical College and Research Centre, and secured 5th rank in RGUHS university.
2017-2019, she completed Diplomate in National Board from Dr Solanki Eye Hospital, Bangalore.
Her dessertation topic during Secondary DNB was titled 'Optical Coherence Tomomgraphy based characteristics and classification of Diabetic Macular Edema in both treatment naive and previously treated patients presenting to a tertiary care centre'.
She is a member of Karnataka Ophthalmic Society.
Experience
She has worked as Consultant in Vasan eye care Bannerghatta Road, Bangalore from January 2020 to June 2021.
She has worked as Registrar in Manipal hospital Whitefield in Department of Ophthalmology from September 2021 to May 2022.
Surgical Experience
Dr. Sweta has performed Phacoemulsification, Small incision cataract surgeries, Pterygium excision, Chalazion I&C, Enucleation, Evisceration, Corneal tear repair,Intravitreal injections, Dacryocystectomy and assisted in Keratoplasty, Globe rupture repair, Trabeculectomy, Collagen cross linking, Dacryocystorhinostomy and Squint surgeries. She has teaching experience with regular undergraduate teaching as a part of structured teaching program during postgraduate training program.
Area of expertise
Cataract surgeries
Pterygium excision
Chalazion I&C
Enucleation
Evisceration
Corneal tear repair
Traumatic eye injury
Medical Retina
Awards and recognitions
Paper Presentations
Paper Presentation on OCT based classification of Diabetic Macular Edema at KOSCON 2018, Mangalore
Poster Presentation on food for thought – does duration matters for treatment of Descemet's Membrane detachment at KOSCON 2018, Mangalore
Poster presentation on Ocular features in a rare case of Phakomatosis Pigmentovascularis at Glaucovalam 2018, Trivandrum.