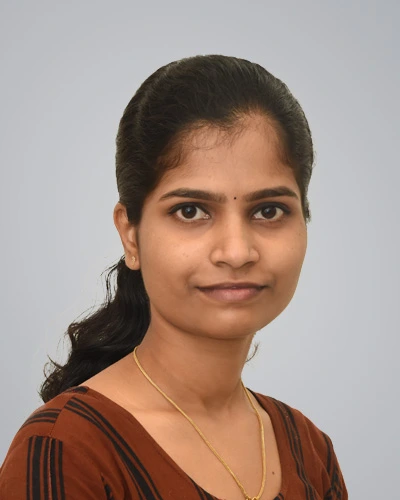 Ms. Vishnumaya K B
Vision therapist
Overview
Ms. Vishnumaya K B is a vision therapist currently working at Aster Whitefield hospital, Bangalore. She has pursued her Bachelor's in optometry from A.J Institute of Medical Sciences, Mangalore.
Her area of interest is in providing vision therapy to children with CVI, squint, amblyopia, delayed development, autism spectrum disorder, ADHD and other visual impairments that hinder child's daily activities including their education and physical performances.
Area of expertise
Conferences/workshops
ASCON 2022 International Optometry Conference at NIMHANS Convention Centre, Bangalore.

Workshop on Vision therapy techniques at ASCON 2022.

Workshop on Orthokeratology at ASCON 2022.

Participated and presented a paper in poster section at ASCON 2022 - 2nd international optometry conference.
Other Similar Doctors