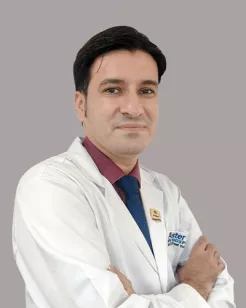 Dr. Keni Ravish Rajiv
Consultant Neurologist & Epileptologist
MBBS, MD (General Medicine), DM (Neurology), Fellowship in Epilepsy
Overview
Dr. Keni Ravish Rajiv is a Consultant Neurologist and Epileptologist in the Department of Neurosciences at Aster Hospitals, Bangalore and Aster MIMS, Calicut. He has vast experience in treating various complex and difficult to manage patients with epilepsy. He is an expert in the field of epilepsy and is one of the few certified epileptologists in India.
Educational Qualifications:
He completed his MBBS from Goa Medical College in 2007 and MD in General Medicine from PESIMSR, Kuppam in 2013. Subsequently, he underwent Super-specialty training in Neurology at the prestigious Sree Chitra Tirunal Institute of Medical Sciences & Technology (SCTIMST), Thiruvananthapuram, Kerala from 2015-2017. After successfully completing his DM Neurology course, he underwent a one-year Epilepsy Fellowship in the prestigious R. Madhavan Nair Center for Comprehensive Epilepsy Care of the same institute in 2018.
Experience in Epileptology:
He has experience of reporting more than 1000 video EEGs and more than 150 intra-operative electrocorticography. He is well-versed in treating both adult and pediatric complex epilepsy cases. After the completion of his Epilepsy Fellowship, he joined Narayana Medical College, Nellore as the in-charge epileptologist and was instrumental in setting up the Comprehensive Epilepsy Care Center (first of its kind in Andhra Pradesh). Under his guidance epilepsy surgery was successfully carried out for 27 patients within a short span of 1 year. He has a special interest in the management of Epilepsy in Women and management of status epilepticus and also has several publications on these topics.
Awards and recognitions
Apart from being an astute clinician, he is an eminent academician. Looking at his academic performances he is regarded as one the most promising Neurologist and Epileptologist. He was the South-Zone winner for Torrent Neurology Young Scholar Award in 2017. He has several research publications pertaining to Epilepsy in renowned international journals to his credit. In recognition of his research work, he was granted the prestigious International Scholarship Award 2019, by the American Academy of Neurology. Apart from authorship, he has the privilege of being selected as a reviewer for several Neurology and Epilepsy indexed journals such as (Clinical EEG and Neuroscience, Neurology India, Annals of Indian Academy of Neurology, Journal of Neurology in Rural Practice, BMJ Case Reports). He was invited as a faculty for teaching EEG analysis for budding neurologists during the Indian Epilepsy School in 2018 and A-Z of EEG workshop organized by Karnataka Neurosciences Academy in 2020.
 
Professional Membership:
Associate member of American Academic of Neurology
Indian Academy of Neurology
Indian Epilepsy Society
Publications: 20 journal articles and 7 book chapters.
 
Journal Articles:
Rajiv KR, Reddy YJV, Balaji G, Nagabushan MV, Bilateral - Otitis Media, Dacroadenitis, Parotitis, and Left-Sided Infranuclear Facial Palsy: Unusual Manifestations of Wegener's Granulomatosis. JAPI. 2013; 12(61): 52-55.
Rajiv KR, Srivastava S, Varghese P. A rare case of anterior circulation thrombus resulting in posterior circulation stroke. IJBAMR. 2014; Vol.-3, Issue- 4: 61-64.
Sankar U, Varghese P, Rajiv KR. Hoffmann's syndrome: An atypical neurological manifestation of hypothyroidism. IJBAMR. 2015; Vol.-4, Issue- 2: 409-413.
Nair M, Menon R, Hassan H, Rajiv KR, Menon D, and Radhakrishnan A. An audit of the predictors of results in status epilepticus from a resource-poor country: A comparison with developed countries. Epileptic Disord in June 2016. 1;18(2):163-72.
Radhakrishnan A and Rajiv KR. Status epilepticus in pregnancy: Etiology, maintenance & clinical results. Epilepsy & Behavior 2017; 76:114-119.
Jose M, Sarma S, Keni RR, Thomas SV. Teratogenicity of antiepileptic dual therapy like dose-dependent and drug-specific or both? Neurology in February 2018. 27;90(9):e790-e796.
Cherian A, Sukumaran S, Thomas SV, Nair M, Menon RN, Rajiv KR, and Radhakrishnan A. Status epilepticus linked to pregnancy: devising a protocol for use in the intensive care division. Neurology India in 2018; Volume 66(6); 1629-1633.
Radhakrishnan A and Rajiv KR. Status epilepticus in pregnancy - Can we make a uniform treatment protocol? Epilepsy Behav in 2019, July 12:106376. 
Chandran A, Rajiv KR, Menon R, Radhakrishnan A, Thomas SV, Baishya J, and Mitta N. How safe is bone health in patients upon newer or enzyme inhibitor antiepileptic drugs? - J Neurol Sci in 2019, October 15;405:116422. 
Durango-Espinosa Y, García-Ballestas E, Mendoza-Flórez R, Moscote-Salazar LR, Keni R, Deora H and Agrawal A. The puzzle of spontaneous versus traumatic subarachnoid hemorrhage. Apollo Med. in 2019;16:141-7.
LR Moscote-Salazar LR, Agrawal A, and Keni R. Non-narcotic ways of pain management: A Neurosurgeon's Point of View. Indian Journal Of Clinical Practice. 2019 Sept; 30(4).
Keni RR, Jose M, A SR, Baishya J, Sankara Sarma P and Thomas SV. Anti-epileptic drug and folic acid usage in pregnancy time, seizure and malformation results: Changes over two decades in the Kerala Registry of Epilepsy and Pregnancy. Epilepsy Res. 2020 Jan;159:106250. 
Deora H, Florez WA, Martinez-Perez R, Galwankar S, Keni R, Menon GR, Agrawal A, Garcia-Ballestas E, Joaquim A, and Moscote-Salazar LR. Patients with intracranial hypertension with aneurysmal subarachnoid hemorrhage: A well-organized review and meta-analysis. Neurosurgery Rev. February 2020. 1. doi: 10.1007/s10143-020-01248-9. 
Keni RR and Thomas SV. Bridging The Gap in Epilepsy Treatment in A Resource-Limited Setting. AIAN. 2020 Feb. DOI: 10.4103/aian.AIAN_608_19
LR Moscote-Salazar, Agrawal A, and Keni R. Brain Activation in Patients who are not responsive with Acute Brain Injury: Words of Caution. Indian Journal of Clinical Practice, Vol. 30, No. 10, March 2020.
Baishya J, Unnithan G, Menon RN, Rajiv KR, Chandran A, Thomas SV, Radhakrishnan A. Personality diseases in temporal lobe epilepsy: What do they signify? Acta Neurol Scand. 2020 May 9. doi: 10.1111/ane.13259. 
Quinones-Ossa GA, Moscote-Salazar LR, Durango-Espinosa Y, Padilla-Zambrano H, Keni RR, Deora H, and Agrawal A. The puzzle of spontaneous versus traumatic intracranial hemorrhage. Egypt J Neurosurg. 2020; 35(13). DOI: 10.1186/s41984-020-00084-9.
Keni RR, Licchetta L, Ignjatova L, Mostacci B, Kiteva-Trencevska G, Thomas SV, Meador KJ. Women's issue. Epileptic Disorders. July 2020 [Epub ahead of print]. DOI:10.1684/epd.2020.1173
Bonilla-Mendoza C, Moscote-Salazar L, Keni R, Garcia-Ballestas E, Pacheco-Hernandez A, and Agrawal A. Mitochondrial Dysfunction in Traumatic Brain Injury: Management Strategies. Indian Journal of Neurotrauma. 2020;17(01):37-41. DOI:10.1055/s-0040-1713457
Rajiv KR, Menon D, Radhakrishnan A. PLEDs and NCSE: To lump or Split them Together? Acta Scientific Neurology. 2020; 3(9).
 
Book Chapters: 
Rajiv KR, S Raghavendra. First-line Therapy in Status Epilepticus. In Status Epilepticus: Practical Guidelines in Management. Jaypee Publishers.First Edition: 2017. 
Rajiv KR, Agarwal V. Newer anti-epileptic drugs in pediatric epilepsy syndromes. In Pediatric Epilepsy Syndromes: Seizures, Syndromes, Approach, and Management. Jaypee Publishers. First edition: 2018.
Keni RR, Deora H, Agrawal A. Normal Pressure Hydrocephalus. In New Insight into Cerebrovascular Diseases: An Updated Comprehensive Review. Intech Open Publishers. 2019. DOI: 10.5772/intechopen.92058
Singh S, Deora H, Keni RR, Agrawal A. Changing Paradigms in the Pathophysiology of CSF Dynamics. In: Advances in Health and Disease. Nova Publishers. Volume 21. June 2020.
Rajiv KR, Agrawal A. Post-cerebral infarction seizures. In: Advances in Health and Disease. Nova Science Publishers. Volume 21. June 2020.
Keni RR, Thomas SV. Managing Epilepsy in Women. In: The 5-Minute Clinical Consult 2020 South Asian Edition. Wolters Kluwer India Pvt Ltd.; 2020:Lippincot Gurukul e-content.
Rajiv KR, Kumar NS. TB Meningitis. Textbook Of Tuberculosis & Nontuberculous Mycobacterial Diseases. Jaypee Publishers (In press).
 
Papers presented at Scientific conferences: 6 oral and 7 poster presentations
Oral presentations:
A case of resistant JME in women of child-bearing age group. Ask The Experts Sessions-Women' s Issues. Search Results. 33rd International Epilepsy Congress Bangkok 2019.

Auto-immune encephalitis presenting as status epilepticus. ECON Patna 2017.

Teratogenicity of AED dual therapy: dose-dependent or drug-specific. SCTIMST, Science fete 2017.

Malformation risk of antiepileptic dual therapy in women with epilepsy. KAN annual conference. Kozhikode 2016.

Super-refractory status epilepticus (SRSE): Can we draw conclusions and predict the outcome? Conference on 'Epilepsy in Clinical Practice'. Vikram Hospital Bangalore 2016.

Role of elevated cardiac troponin in critically ill patients- AP APICON 2012.
 
Poster Presentations: 
Trends in AED, folic acid usage, and MCM outcomes over two decades in KREP. AAN conference, Philadelphia 2019.

McGurk effect in left versus right hemispheric epilepsy. Asia-Oceania Congress of Epilepsy, Hong Kong 2016.

Reversible Myocardial Dysfunction In The Critically Ill- APICON 2013

Anterior Circulation Thrombus with Posterior Circulation Stroke- APICON 2013

Addison Disease with extra pontine myelinolysis- APICON 2012

Wegener's Granulomatosis- AP APICON 2012

Wilson's Disease- AP APICON 2011