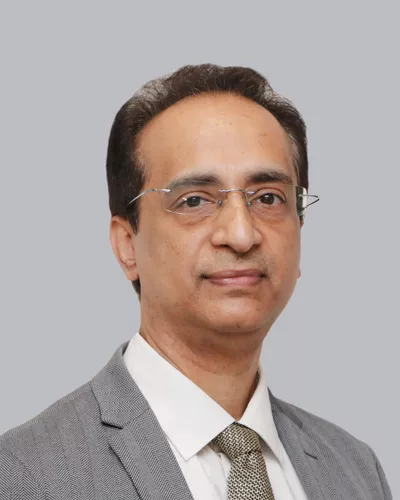 Prof. Dr. Nagamalesh U M
Lead Consultant - Cardiology, Interventional Cardiologist, Aster CMI Hospital, Bangalore. Director - Heart Failure, Transplant & MCS Program, Aster Hospitals, Bangalore
MBBS, MD, DNB (Cardiology), FACC, FESC, FSCAI
Overview
Dr. Nagamalesh U M is an Interventional Cardiologist and a Transplant Cardiologist with over 2 decades of experience, and highly experienced in handling cases involving Advanced Heart Failure, Heart Transplant, and Interventional Cardiology.
He has conducted over 54 heart transplants, with internationally acceptable outcomes and has performed over 30,000 cardiac catheterisations, coronary angiographies, pacemaker implants, and coronary angioplasties. His area of expertise includes primary angioplasty, bifurcation lesions, left main and vein graft intervention, using both the radial and femoral approach. He is also proficient in techniques such as FFR, ROTA, valvular heart disease, ASD, PDA closures device pacemaker, and ICD implantation.
Dr. Nagamalesh obtained a Bachelor's in Medicine and Surgery from the JSS Medical College in Mysore and has a Master's in Medicine from the prestigious Rajiv Gandhi University of Health Sciences, Bengaluru. He has a Diplomate from the National Board (Cardiology) and has also received training in heart failure and transplant cardiology from Papworth Hospital in Cambridge, UK.
Dr. Nagamalesh has written articles for various publications. To his long list of achievements, he has also been a recipient of the Chairman's Award by Dr Devi Prasad Shetty from Narayana Health. He was given the Distinguished Alumni Award for his outstanding performance in developing the Heart Transplant Programme in Karnataka.
Area of expertise
Advanced heart failure and Transplant cardiology
Interventional cardiology
Awards and recognitions
Chairman's Award by Dr. Deviprasad Shetty, Narayana Health for outstanding performance in developing Heart Transplant Program.
Distinguished Alumni Award, JSS Medical College Mysore.
Membership & Associations
International Society of Heart and Lung Transplant
Fellow of American College of Cardiology
Fellow of European Society of Cardiology
Fellow of Asia Pacific Society of Interventional Cardiology
Cardiology Society of India
Research Article
Prospective single center study to assess the incidence and risk factors associated with cardio renal syndrome with respect to subtypes
Single center cross sectional observational study of heart failure patients
Acute pulmonary thromboembolism: Epidemiology, predictors and long-term outcome - single center experience
Clinical profile of young Indian women presenting with acute coronary syndrome
Oral anticoagulant prescription analysis for utilization pattern among inpatient at a tertiary care hospital
Impact of a multicomponent strategy on utilization of cardiac rehabilitation services in a tertiary care hospital from a lower middle income country: retrospective analysis
Yoga based cardiac rehabilitation after acute myocardial infarction: A randomized trial
His bundle pacing – Is it the final frontier of physiological pacing? A single experience from the Indian sub continent
Perioperative glycemic control in patients who underwent cardiac transplantation and effect on the outcome at discharge in a tertiary care Centre
Acute myocardial infraction presenting with atypical symptoms
Clinical presentation, management, and outcomes in the Indian Heart Rhythm Society-Atrial Fibrillation (IHRS-AF) registry
Case Report
Ectopic precarinal space parathyroid carcinoma; A rare entity with a diagnostic dilemma diverticulum and cleft mitral valve: surgical repair in childhood
Review Article
Recommendation of the INSHLT task force for thoracic organ transplant during COVID 19 pandemic in India.
Editorial
25 years of heart transplant in India: lesson learned JPCS
Abstract Presentation
Coexisting dual rhythm- sinus and left atrial flutter post wide antrum circumferential ablation (WACA) plus atrial roof line and lataral mitral ischmus ablation.
Journal of arrhythmia: suppl 2012 ,vol 28 ,p 221
Arrhythmogenic focus in ARVD mimicking ischemic ventricular tachycardia predominant involvement of interventricular septum.
Journal of arrhythmia :suppl 2012 ,vol 28 ,p 311
Arrhythmogenic Right ventricular dysplasia / Cardiomyopathy involving isolated ventricular septum.
Scholors Journal of Applied Medical Sciences – 2014 2(2C); 699-701.
Kounis Syndrome case report.
Scholors Journal of Medical Case Reports – 2014 2(I);28-29
Long term Angiographic follow up of patient with M-Guard stent for Coronary stenosis with aneurysm – safety and feasibility.
International Journal of Basic and Applied Medical Science – July 2014.
Benefit of Quadrapolar left ventricular (LV) lead in improving responder rate even in grossly dilated left ventricles
November 2017,Indian Heart Journal 69(S2):S72
Cardiac implantable electronic device-related infection & its prevention: A tertiary care centre protocol
November 2017,Indian Heart Journal 69(S2):S73
A randomized comparison of percutaneous transluminal coronary angioplasty by the radial and femoral approaches
November 2017,Indian Heart Journal 69(S2):S51-S52
Use of extracorporeal membrane oxygenation in acute coronary syndromes complicated by cardiogenic shock
November 2017,Indian Heart Journal 69(S2):S4
Clinical Trials in Cardiology
Indian heart rhythm registry of atrial fibrillation patient's characteristics and clinical management practices
A multicentre, randomized, double blind, parall group, active controlled study to evaluate the efficacy and safety of study drug compared to enalapril on morbidity and mortality in patients with chronic heart failure and reduced ejection fraction.
A randomised double-blind trial to evaluate study drug versus acetylsalicylic acid to prevent stroke in atrial fibrillation patients who have failed or are unsuitable for vitamin K antagonist treatment
RED-HF -Reduction of Events with Darbepoetin Alfa in Heart Failure) trial
Evaluation of safety and efficacy of short-term study drug treatment in subject with Acute Coronary Syndrome
CCF with Hypernatremia
A phase 3 Active controlled (warfarin)randomized, double blind, parallel arm study to evaluate efficacy and safety of study drug in preventing stroke and systemic embolism in subject with non-valvular Atrial Fibrillation
A double blind, randamized placebo controlled multicenter study assessing the impact of additional LDL-Cholesterol reduction in major cardiovascular events when AMG145 is used in combination with statins therapy in patients with clinically evident cardiovascular disease
Lipid target achievement in high-risk patients with Acute Coronary Syndrome (DYSIS II)
Prospective, multicenter, international registry of male and female patients newly diagnosed with atrial fibrillation
A Randomized, double blind, placebo controlled, event driven, multicenter study to evaluate the efficacy and safety of study drug in subject with recent acute coronary syndrome
Other Similar Doctors