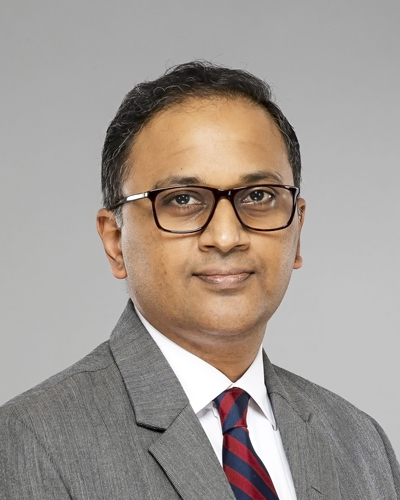 Dr. Arul Dominic Furtado
Consultant - Cardiovascular & Thoracic Surgery
MBBS, MS, DNB, MCh (CTVS), DNB, FRCS(Eng) CTh, MEBCTS
Overview
Dr. Arul D. Furtado, Consultant in Cardiovascular and Thoracic Surgery has over 15 years of experience in the field. He has extensive experience in Adult Cardiac Surgery - coronary artery bypass surgery, valvular heart surgery, aortic surgery, minimally invasive cardiac surgery and robotic cardiac and thoracic surgery.
Dr. Furtado worked as a consultant in Apollo Hospitals, Bangalore.
Prior to the same he worked in the Sri Jayadeva Institute of Cardiovascular Sciences and Research from 2009 until 2012 where he held the post of Associate Professor.
Following the same he did Fellowships in Adult Cardiac Surgery from the Brigham and Women's Hospital, Boston (A Harvard Medical School Affiliate) and further Fellowships in Adult Cardiac Surgery and Minimally Invasive Cardiothoracic Surgery at Emory University, Atlanta, USA. During this time he received extensive training in high risk adult cardiac surgery, Aortic surgery, Beating heart/ off pump coronary bypass surgery, TAVR/TAVI, TEVAR and robotic cardiac surgery.
He completed his MBBS and then his MS in General Surgery from Kasturba Medical College, Mangalore. He then completed his MCh in Cardiovascular and Thoracic Surgery from Sree Chitra Thirunal Institute of Medical Sciences and Technology, Trivandrum. He holds additional DNB degrees in both General Surgery and Cardiothoracic Surgery.
He then cleared the FRCS (Eng)-CTh in 2018 followed by certification by the European Board of Cardiothoracic Surgery with a MEBCTS.
Area of expertise
Adult Cardiac Surgery

Coronary bypass surgery- off pump; multi arterial

Minimally Invasive Valve surgery, MICS CABG

Valve repairs and replacements

Aortic Surgery - conventional; hybrid/TEVAR

Robotic Cardiac Surgery

Transcatheter Aortic Valve Replacement - TAVR/ TAVI

Heart transplantation, Extra corporeal life support, LVAD's

 
Thoracic Surgery 
VATS

Robotic thoracic surgery


 
Papers Published
Calcified unruptured sinus of valsalva aneurysm in a child.

 

Furtado AD

, Shivanna DN, Peer SM,  

Mahimarangaiah

J.  Pediatr Cardiol. 2011 Dec;32(8):1228-30. Epub 2011 Aug 2  

Persistent Left Fifth Aortic Arch with Pentalogy of Fallot.

Furtado AD

, Manohar SR, Pradhan SK, Pillai V, Karunakaran J. Thorac Cardiovasc Surg. 2012 Apr;60(3):233-5. doi: 10.1055/s-00301271013. Epub 2011 May 9.  

Infected pseudoaneurysm involving a drug-eluting stent.

Furtado AD

, Bhat SP, Peer SM,

  Chikkatur. Interact Cardiovasc Thorac Surg. 2011 Apr;12(4):636-7. Epub 2011 Jan 12.  

Paradoxical embolus across atrial septal defect and posterior circulation infract in neurosurgical patients. Furtado SV, Venkatesh PK, Murthy GK,

Furtado AD

, Hegde AS. Int J Neurosci. 2010  Jul;120(7):516-20.   

The regurgitant mitral valve: A case of mistaken identity.

Furtado AD

, Pillai V, Panicker V,

  Karunakaran J. Indian J Thorac Cardiavasc Surg. DOI: 10.1007/s12055-010-0052-6.  

Pulmonary artery bypass for in-stent stenosis following angioplasty for isolated pulmonary

  Takayasu Arteritis.

Furtado AD

, Shivanna DN, Rao SP, Bhat S, Suresh S, Peer SM. J Card Surg.

  

2012 May;27(3):365-7. doi: 10.1111/j.1540-8191.2012.01440.x. Epub 2012 Apr 12

  

Aorto-left ventricular tunnel: uncommon site of origin and management

–

Furtado AD

, Peer SM,  

Bhat S, Mahimarangaiah J. Asian Cardiovasc Thorac Ann. 2012 Oct;20(5):591-4. doi:

  10.1177/0218492312439399.  

A technique for repair of atrio-ventricular canal defect in Dextrocardia

–

How to do it.

Furtado

  

AD

, Chikkatur R, Peer SM, Bhat S.Eur J Cardiothorac Surg. 2012 Jul;42(1):173-4. doi:  

10.1093/ejcts/ezs019. Epub 2012 Feb 9

. 

  

Right ventricular outflow tract aneurysm with thrombus. Peer SM, Bhat PS,

Furtado AD

, Chikkatur R. Interact Cardiovasc Thorac Surg. 2012 Apr;14(4):488-90. doi: 10.1093/icvts/ivr151.

  Epub 2012 Jan 9.  

Transesophageal echocardiography in surgical management of pseudoaneurysm of mitral-aortic intervalvular fibrosa with aneurysms of right sinus of Valsalva and left main coronary artery. Joshi

  

SS, Jagadeesh AM,

Furtado A

, Bhat S. Ann Card Anaesth. 2013 Jan-Mar;16(1):40-3. doi: 10.4103/0971-9784.105368. 

Extraction of Right-Sided Vegetation with Use of an Aspiration Catheter System. Hosoba S, Mori M, Furtado AD, Lattouf OM. Innovations (Phila). 2015 Sep-Oct;10(5):357-9. doi: 10.1097/IMI.0000000000000189.

 

Minimally invasive aortic valve replacement: is the effort justified? Nambala, S.P., Furtado, A., Aggrawal, D. et al. Minimally invasive aortic valve replacement: is the effort justified?. Indian J Thorac Cardiovasc Surg 34, 151

–159 (2018). https://doi.org/10.1007/s12055-017-0640-9
Other Similar Doctors