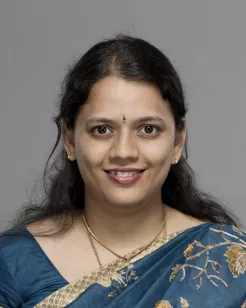 Dr. Divya Srirangarajan
Consultant - Paediatrics
Overview
Dr. Divya Srirangarajan is a well-qualified and experienced Pediatrician working at Aster CMI Hospital in Bangalore. With vast experience, she gained deep expertise and knowledge in the field of Pediatrics.

She did her MBBS from PSG Institute of Medical Sciences and Research in Coimbatore. Later in 2009, she did MD in Pediatrics from Madras Medical College - Institute of child health and hospital.

Dr. Divya is one of the well-known Pediatricians in Bangalore, India offering comprehensive medical care. With a rich experience of 11 plus years, she is well-versed and known as a top Pediatrician and Specialist in the management of pediatric emergencies.

Early in her practice she has worked in several NICUs including Surya hospital in Chennai under Dr. Deepa Hariharan, Manipal hospital - NICU in Bangalore. She was NICU in charge at Vagus hospital and worked as Assistant Professor in the Department of Pediatrics and Neonatology, Chettinad university in 2009.

Later She worked in PD Hinduja Sindhi Hospital, Bangalore in the department of Neonatology & Pediatrics taking care of neonatal resuscitation and sick newborn care. Her area of expertise includes Neonatal resuscitation and Neonatal advanced support including ventilation, surfactant usage, total parental nutrition, PICC line insertion, preterm care, and management of neonatal emergencies.

She then joined Baptist hospital, Bangalore as consultant pediatrician - PICU in charge in 2014 where she meticulously practiced Pediatric advanced life support, PICU procedures including critical cardiac care, intubation, ventilation, central line insertion, peritoneal dialysis, intercostal drainage, ascitic tap, lumbar puncture, liver biopsy and management of neurological emergencies.

She is an expert in Pediatric specialties like Cardiology, Pulmonology, Neurology, Gastroenterology, and Endocrinology. Dr. Divya is an expert in the management of HIV exposed and infected children including treatment with highly active Antiretroviral Therapy, management of malignancies such as leukemia and lymphoma including chemotherapy.

She joined in ASTER CMI in 2015 as a consultant pediatrician and neonatologist and has been handling pediatrics and neonates managing outpatients, emergencies, inpatients including ICU care. She is well versed in treating pediatric patients, immunization and care of chronic pediatric illnesses.

She completed her pediatric emergency fellowship from Academic college of emergency experts and is in charge of pediatric emergency services providing critical care for childhood emergencies including injuries, poisoning, ingestion of foreign body, breathing difficulties, etc. She is well-experienced in taking care of sick neonates and children and evaluation of complex cases.

Dr. Divya's training programs include a state-level workshop on pediatrics HIV and AIDS in 2007, Neonatal advanced life support (NALS) in 2006, Pediatrics advanced life support (PALS) in 2008, Lactation management course in 2006 and IMNCI training in 2008, developmental workshop in Mumbai. She finished her PALS instructor course in 2018 and has been actively teaching students in emergency care all over India. She has undergone training in the BED WETTING conclave in 2019 and conducting a bedwetting clinic successfully since then.
Awards and recognitions
Awards and Recognitions:
Initiation of Bedwetting clinic
Certified PALS instructor in the Academy of global education

Papers Published:
Role of epithelial-mesenchymal transition in phenytoin influenced gingival overgrowth in children and young adults. A preliminary clinical and immuno histochemical study.

Membership:
Other Similar Doctors