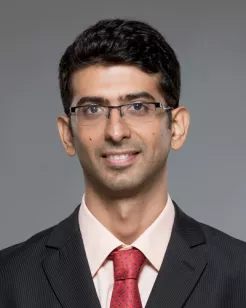 Dr. Gaurang J Kothari
Consultant - Anaesthesia & Critical Care
Overview
Dr Gaurang J Kothari is a highly – qualified Consultant in Anaesthesia & Critical Care at Aster CMI Hospital in Bangalore with more than 10 years experience in this field. Dr Gaurang has a special interest in Paediatric and Neonatal Anaesthesia. He has done his fellowship in Paediatric Anaesthesia from Indira Gandhi Institute of Child Health (IGICH), Recognised by RGUHS, which has a high volume paediatric cases including term, preterm and low birth weight babies.

Dr Gaurang has experience in providing anaesthesia for children coming for complex surgeries, children requiring epidural for pain relief as well as children coming for daycare procedures. He has been involved in providing care for children with liver disorders including for Liver Transplant. He has been actively involved in providing care for cleft lip and palate and another congenital abnormality repair at our hospital and also charity camps for children with cleft lip and palate coming for corrective surgeries organized by NGO. Dr Gaurang has been providing support for children, including children with special needs, coming for radiological and oncological procedures such as CT, MRI, Interventional Radiology and Radiotherapy requiring anaesthesia support.

Dr Gaurang's other areas of interest include obstetric anaesthesia for high-risk pregnancy and pain management during labour. He has been trained in acute pain management service including ultrasound-guided nerve block for pain relief. Dr Gaurang has received extensive training in ICU management of sick patient requiring multiple organ support and bedside tracheostomy. He is proficient in various procedures including invasive monitoring, ultrasound-guided nerve block, difficult airway management.

Dr Gaurang J Kothari has passed his MBBS M.D. from Kasturba Medical College, Manipal in 2007. He has completed his M.D. from Kasturba Medical College, Mangalore, Manipal university as a gold medalist and best outgoing student in 2010. Subsequently, he has obtained Diplomate in National Board (DNB) in Anaesthesiology issued by National Board of Examinations, New Delhi in June 2011. He has obtained his fellowship in Paediatric Anaesthesia in 2015.

Dr Gaurang has been with us at Aster CMI from July 2015. Prior to that, he has worked at Kasturba Medical college, Mangalore for more than 3 years. He has also worked at Columbia Asia hospital, Bangalore as a Junior Consultant from July 2013 to June 2014.
Awards and recognitions
Best Poster, 7 National Conference Of Indian Association Of Paediatric Anaesthesiologists, 2015, Chandigarh. Non Randomised Observational Trial To Study The Correlation Of Skin Temperature Over Carotid And Core Temperature In Children Undergoing Extraperitoneal And Intraperitoneal Surgery.
A Randomised Controlled Trial On Hemodynamic And Intraocular Pressure Changes : A Comparison Between Classic LMA And Endotracheal Intubation. Journal Of Clinical And Diagnostic Research Feb 2019:13:02.