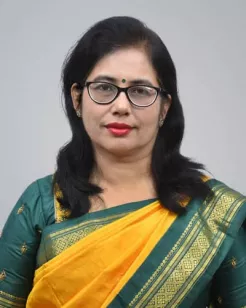 Dr. N Sapna Lulla
Lead Consultant - Obstetrics & Gynaecology
MBBS, MS (Obstetrics & Gynaecology)
Overview
Dr. Sapna Lulla is a Lead Consultant Obstetrician and Gynaecologist at Sahakarnagar, Hebbal. working at the best obstetrician & gynecology hospital in Bangalore - Aster CMI hospital. Dr Sapna has more than 20 years of rich professional experience in treating patients with utmost compassion and attentiveness. Her primary goal as a practitioner is to ensure that each of her patients receives the highest quality of medical & birthing care.
As a Gynaecologist Dr Sapna Lulla's medical education began at M.S.Ramaiah Medical College, Bangalore and her Masters in Obstetrics and Gynaecology at Adhichunchunagiri Institute Of Medical Sciences BG Nagra. She was further trained in artificial reproductive services at Sri Sathya IVF centre, Vishakapatnam.
Dr Sapna has extensive exposure to normal and high-risk pregnancies. She has to her credit more than 5000 deliveries providing every mom to be with a personalized tailored journey leading to a positive pregnancy/stress-free birth.
She has trained many in Obstetric emergencies and has served as a beacon of hope for thousands of infertile couples. Her patients swear by her ability and commend her for expertise in high-risk pregnancy. The wisdom and compassion exhibited by her in the journey of motherhood have made childbirth a memoir to experience.
Despite her unquestioned success in her evolving career in leading maternity hospitals of Bangalore she maintains making a decision to have a child is momentous and to excel in the process of birthing is an opportunity to transcend
First in India to do a thesis on the correlation of Periodontal Disease and Group B Streptococcus in Preterm Labour in 2004.
Area of expertise
Vaginal/Gentle/Hypno birthing
High risk pregnancy
Infertility evaluation
Preconception counseling 
TAH/LAVH
Vaginal hysterectomy for non-descent uterus
Maternal medicine
Contraception
PCOD/PCOS
Minimal invasive & Laparoscopic surgeries
 
Recognitions
Principal Investigator for post-marketing prospective multicentric observational study for Abbot in2012
Member of the clinical advisory board for Bayers in 2018.
Article in The week- Tree of life on placental insufficiency in 2016
Faculty for male infertility ACME in 2015.
Article in Tribuneindia.com and New Indian Express .com on UNDERACTIVE THYROID in 2020
HPV and Cervical cancer talk in The news minute.com 
Guest Lecture on cervical cancer awareness at Indian Academy of Institutions in 2019
Health talks on menstrual health at Indian academy
Moderator for panel discussions in Abbot in 2021.
 
Paper Presentation
AICOG in 2018 in Orissa
Case presentation in GESICON 2014/FENIX 2015.
Case presentation in FOCUS 2006.
 
Awards
Best gynaecologist Bangalore-India's most prominent women empowerment awards 2019.
Felicitated with Sindhu Rathna Award  2019 of Bangalore federation for excellence in the field of healthcare
Sindhu Shree award at  Sindhi Federation of South India
 
Other Similar Doctors