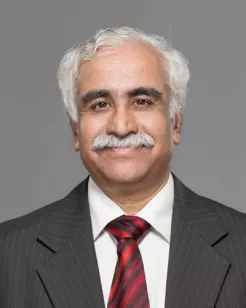 Dr. Naresh Bhat
Chief of Gastroenterology
MBBS, MD (General Medicine), DM (Gastroenterology)
Overview
Dr. Naresh Bhat is the chief of Gastroenterology and Hepatology at Aster CMI Hospital, Bangalore. His core strengths are clinical gastroenterology and advanced endoscopy. Dr. Bhat is the chairman of the Indian NBI group and a core member of the Asia NBI group (ANBIG) and trains endoscopists in India and Asia in advanced endoscopic imaging.

He has been in practice for over 30 years as a pioneering gastroenterologist in the country. He leads a team of gastroenterologists with experience and skills in different areas like IBD, pancreatic disease, Metabolic liver disease and Motility disorders to form the Centre of Excellence in Gastroenterology and Liver Disease. He was President Society of GI Endoscopy India and presently President-Elect of AIGE, Governing Council member Indian Society Gastroenterology and President ISG Karnataka. His areas of interest include GI cancer, IBD therapeutic and pediatric endoscopy. He has trained in Hamburg, Germany in Therapeutic endoscopy and He also trained in Japan in advanced endoscopic imaging.

Dr. Naresh Bhat has done his MBBS from St John's Medical College, Bangalore in 1980 and MD in General Medicine from PGI. Later, in 1985, he completed his DM in Gastroenterology from PGI. He also completed a fellowship in Therapeutic Endoscopy and short term fellowship in advanced imaging at Yokohama, Japan.
Awards and recognitions
Pope Paul Gold Medal for the best outgoing student in MBBS
Govt. of Karnataka Award for best MBBS student in Karnataka, 1980
7 University gold medals in MBBS & MD
Delivered the K N Guruswamy Oration in 1991 on Helicobacter pylori
Delivered the Dr K S Shadaksharappa Oration I 2001 on "Crohn's -3 decades"
Delivered the SGEI oration 2012 on "Colonic polyps - are we getting it right"

Scientific Societies:
Governing Council Member Indian Society Gastroenterology 2012-2-14
President ISG Karnataka 2013 onwards
President Society of GI Endoscopy India 2008-2009
Other Similar Doctors