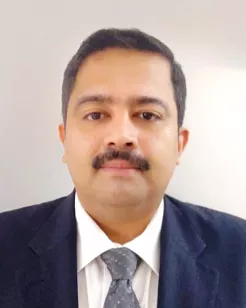 Dr. Raghavendra K S
MBBS, MS (Orth), DNB (Orth), Dip. Orth
Overview
Dr. Raghavendra K. Sharaph is a consultant in the Department of Orthopedics with a specialization in Adult reconstruction, joint replacement, and arthroscopic surgeries. He has more than 9 years of experience in the specialty of orthopedic surgery. He has worked at several renowned hospitals in India as well as abroad, before joining Aster CMI Hospital.
Dr. Sharaph completed his MBBS from Sri Devraj Urs Medical College in 2005. He then completed his Diploma Orthopedics and M.S. Orthopedics from Government Medical College, Kozhikode in 2011. He was awarded the DNB ( Orth) by the National Board of examiners, New Delhi in 2012. He has completed his fellowship in joint replacement surgery and sports medicine from Sancheti Hospital under Dr. K.H. Sancheti and Dr. Parag Sancheti. He has also completed the Joint replacement fellowship at Aster CMI Hospital under the able guidance of Dr. Thirumalesh K. Reddy.
He has many publications and presentations in national and international journals and conferences. His special interests are in the fields of complex trauma surgeries, implant design, adult reconstruction and joint replacement surgeries.
 
Fellowships And Training:
Fellowship in Joint replacement surgery and sports medicine- Sancheti Institute of Orthopedics and Rehabilitation, Pune, India – 2013
Zimmer – Biomet Fellowship in Joint replacement surgery- Aster CMI Hospital, Bangalore – 2020
AO Trauma Course – Principles in operative fracture management – Kochi – 2013
AO Trauma Course – Advanced Principles of fracture management – Mumbai – 2014
 
Awards And Recognitions:
2nd place in National PG Quiz – IOACON 2011 held in Jaipur
2nd place in Kerala state PG Quiz – KOACON 2011
 
Publications:
Krishna Reddy T, Kosagi Sharaph R (December 02, 2020) Combined Radial and Ulnar Epiphyseal Injury at the Wrist: A Rare Case. Cureus 12(12): e11843. doi:10.7759/cureus.11843
Kosagi Sharaph R, Saseendar S, Shanmugasundaram S (November 20, 2019) Combined Bennett Fracture Dislocation and Trapezium Fracture: A Rare Case Report. Cureus 11(11): e6211. doi:10.7759/cureus.6211
5th Carpo-metacarpal dislocation with metacarpal fractures - a rare clinical couplet, International Journal of Emerging Technologies and Innovative Research (www.jetir.org | UGC and issn Approved), ISSN:2349-5162, Vol.7, Issue 10, page no. pp3494-3498, October-2020
 
Scientific Paper Presentations:
Functional and radiological outcome in young patients with ankle fractures at the Kerala Orthopaedic Association Conference 2011
Gold medal competition- Role of Intra-operative monitoring of MEP at the during scoliosis surgery and identification of Artery of Adamkiewicz at the Kerala Orthopaedic Association Conference 2008
A new technique of double breasting of anterior capsule during open reduction of DDH- Video presentation at the Kerala Orthopaedic Association Conference 2008
Revision Hip Arthroplasty- Extended trochanteric osteotomy with the trochanteric window at the Orthopaedic Association of South Indian States Annual conference 2009
The technique of PCL Reconstruction – video presentation at the Orthopaedic Association of South Indian States Annual conference 2009
 
Memberships And Associations:
Member of Indian Orthopaedic Association (Life member 8980) since 2012.
Member of Karnataka Orthopaedic Association (Life Member R110) since 2012.
Member of Indian Medical Association (Life Member- KAR/12143/5/2216/174468) since 2013.
Member of Alumni Association at Sancheti Institute for Orthopaedics and Rehabilitation, Pune since October 2013.
Member of Bangalore Orthopaedic Society since July 2014