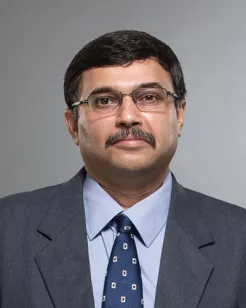 Dr. Raghavendra Pai K
Lead Consultant - Neuroanaesthesia
MBBS, MD, PDCC (Neuroanaesthesia)
Overview
Dr. Raghavendra Pai is a renowned anaesthesiologist with extensive experience in neuro-anaesthesia and critical care. He is an acknowledged expert in handling all types of neurosurgical cases, including CP angle tumors, posterior fossa tumors, meningiomas, intracranial aneurysms, AV malformations, pituitary tumors, spine surgeries and head injury patients.

A meritorious and award-winning student, Dr Raghavendra Pai, after completing his M.D. in Anaesthesiology finished his P.D.C.C in Neuro-anaesthesia and Critical Care from the prestigious NIMHANS Deemed University. Besides his intensive medical practice, he is also known for his fervour towards mentoring the young medical talents and has been associating with M.S. Ramaiah Medical College Hospital as Professor for 13 years.

His expertise lies in handling equipment such as Intubation techniques, Anaesthesia machines, Anaesthesia circuits, Anaesthesia Ventilators, ICU Ventilators, Monitoring systems, Ultrasound.
Area of expertise
Paediatric Anaesthesia
Anaesthesia for ECT, Neuroradiology, Thoracic, Vascular, Oncosurgery, OMFS, Plastic, ENT, Ophthalmologic, General Surgery, Urology, Cardiac, Organ Transplantation, Interventional radiology & Endoscopic procedures.
Awards and recognitions
He holds a distinction in Physiology, Biochemistry and Ophthalmology during M.B.B.S
He was a part of organizing committee of the 17th Annual National Conference of the Indian Society of Neuroanaesthesiology and Critical Care (ISNACC).
He is also the Vice President of the Indian Society of Anaesthesiologists.
Other Similar Doctors