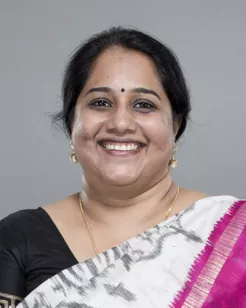 Dr. Soumya Lakshmi T V
Consultant - Obstetrics & Gynaecology
Overview
Dr. Soumya Lakshmi T V is currently working as Consultant in Obstetrics & Gynaecology at Aster CMI Hospital located in Bangalore. She has completed her MBBS, DGO, DNB in OBG from Calicut Medical College Kerala. She has undergone specialised training in High-risk Obstetrics from Melbourne, Australia. she has more than 10 years of experience. She has worked at Divakar's hospital and was a Consultant at Manipal hospitals. she was also associated with Apollo Cradle, Koramangala as a Senior Consultant. She has extensive experience in the management of all obstetric and gynaec emergencies.

Her special interests include management of high-risk pregnant mothers, women with medical disorders, trophoblastic disease, morbid obesity, addiction to alcohol and other drugs. She has several national and an international paper on the trophoblastic disease to her credit.
 
Experience:
She completed MBBS from Calicut Medical College during 1993-1999 and Diploma in OBG from Calicut Medical College during 2001-2003. She also obtained Diplomate of the National Board of Examinations in OBG in New Delhi from 2004-2006.
During her general and speciality medical training she was at the Government medical college in Calicut at Kerala, India. It has the distinction of being the best teaching hospital where the largest number of deliveries occurs and an average of about 1500-2000 deliveries per month.
She has ample experience in antenatal, intranatal and postpartum care and has experience handling other obstetric emergencies like ruptured ectopics, uterine ruptures, PPH, APH, Severe PIH and Eclampsia.
Dr Soumya Lakshmi T V has been trained in cervical smears and colposcopy. She also has experience in assisting the various gynaecological surgeries and performed a few vaginal hysterectomies.
Dr Soumya Lakshmi's thesis is "Epidemiology of Trophoblastic disease and effectiveness of prophylactic methotrexate in the prevention of persistent Trophoblastic disease." She was part of a working team of doctors who ran a trophoblastic disease clinic every week. She has also contributed to the setting up of a national registry of Trophoblastic disease at the college.
Dr Soumya Lakshmi was a tutor at Calicut Medical College from Feb 2003 to Dec 2003. She was Assistant to Consultant in Baby Memorial Hospital and City Co-operative Hospital from Jul 2006 to Oct 2007. She has specialized training in Perinatology at Divakars Global Hospitals from Dec 2007 to May 2008. She worked as Specialist in Gynaecology at Manipal Cure and Care during Jul 2008 to Jul 2010.
She served as Senior Registrar in Royal Women's Hospital, Melbourne Australia during Sep 2010 to Oct 2011. She was a visiting consultant in Manipal Cure and Care from Dec 2011 to Nov 2014. She worked as a Visiting Consultant in Malathi Manipal Hospital since January 2012.
Dr Soumya Lakshmi also worked as a Senior Consultant in Apollo CRADLE, Koramangala since October 2012.

Paper Presentations:
Overview of heart disease complicating pregnancy in Kerala at the regional conference of gynaecologists, Kasargod, Kerala in November 2001.
Comparison of single Vs multi-dose regimens in the treatment of Unruptured ectopic pregnancies, All India Conference, Bangalore, 2002. Stood second in the paper presentation competition.
Statistics of near-miss maternal deaths at a Referral hospital in Kerala, All India Conference, Nagpur, 2004.
Co-Presented a paper on the Epidemiology of Trophoblastic disease in Kerala, India and Newer surgical breakthroughs in the management of invasive moles at the World Congress of Trophoblastic diseases in Hong-Kong, 2006.
Regularly attended monthly deliberations of The Karnataka Associations of Obstetricians and gynaecologists for the last 2 years.