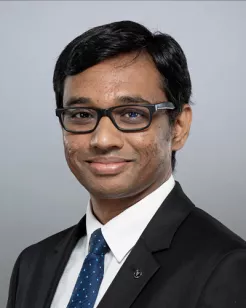 Dr. Srivatsa Lokeshwaran
Consultant - Interventional Pulmonology
MBBS, MD, FRCCM (NUH, Singapore), FCCP (USA), Fellowship in Respiratory endoscopy (NCC, Japan)
Overview
Dr. Srivatsa Lokeshwaran has over nine years of experience in the field of pulmonology. His special interest lies in airway diseases, sleep medicine and interventional pulmonology.

Dr. Lokeshwaran has expertise in interventional Pulmonology and has trained with world-renowned interventional pulmonologists at Singapore in the advanced airway and pleural procedures like thoracoscopy, EBUS (Endobronchial ultrasound) and Tumor debulking and stenting and Bronchial Thermoplasty. He has also trained at National Cancer Center (NCC) Japan, in navigation, mapping and early cancer diagnosis like radial EBUS, electromagnetic navigation and other navigation systems. He also had a stint at Serdang Hospital, Malaysia in advanced interventions like rigid bronchoscopy, complex central airway pathologies, cryotherapy, laser and endobronchial valves.

He ran asthma and airway disease clinic at National University Hospital (NUH), Singapore along with experts and has been running an asthma clinic in asthma phenotyping and advanced therapies for asthma-like targeted therapy and Bronchial thermoplasty.

Dr. Lokeshwaran is also running a state-of-the-art Interstitial lung disease clinic, one of the very few in the country to have a comprehensive ILD (Interstitial Lung Disease) multidisciplinary group. He conducts regular academic activities in ILD of national interest every year. He is also an expert in sleep medicine.

Dr. Lokeshwaran completed his undergraduate training at KIMS, Bengaluru, followed by his training in M.D. (Pulmonary medicine) from the AIMS (Kochi). He then went on to complete his Fellowship in Respiratory and Critical Care medicine from the world-renowned National University Hospital, Singapore.

He received training in advance bronchoscopy and pleural procedures under world-renowned interventional pulmonologists. He holds the distinction of being the first international fellow in respiratory and critical care medicine from NUH, Singapore. He also completed his Fellowship in Respiratory Endoscopy from the National Cancer Center, Japan, one of the premier institutes of advanced cancer management and research for the country with training in CT mapping, convex EBUS, radial EBUS, autofluorescence, photodynamic therapy, electromagnetic navigation and other advanced diagnostics and therapeutic airway and pleural interventions. The experienced doctor believes in delivering evidence-based medicine and keeping abreast of newer advances. He has worked with other leading hospitals in Bangalore carrying with his rich experience.
Area of expertise
Interventional Pulmonology -Trained with world-renowned interventional pulmonologists at Singapore in the advanced airway and pleural procedures like thoracoscopy, EBUS and Tumor debulking and stenting and bronchial thermoplasty
Trained at National Cancer Center, Japan, in navigation, mapping and early cancer diagnoses like radial EBUS, electromagnetic navigation and other navigation systems
Trained at Serdang Hospital, Malaysia in advanced interventions like rigid bronchoscopy, complex central airway pathologies, cryotherapy, laser and endobronchial valves
Ran an Asthma and airway disease clinic at National University Hospital, Singapore along with experts and have been running an asthma clinic in asthma phenotyping and advanced therapies for asthma-like targeted therapy and bronchial thermoplasty
Running a state-of-the-art Interstitial lung disease clinic, one of the very few in the country to have a comprehensive ILD multidisciplinary group
Conducts regular academic activities in ILD of national interest every year
Sleep medicine
Awards and recognitions
Best outgoing student in MD
First international Fellow to complete fellowship in respiratory and critical care medicine from NUH, Singapore
Elected Fellow of the American College of Chest Physicians


Membership
Indian Chest society
American College of Chest Physicians
European Respiratory Society
European Association of Allergy and Clinical Immunology
Karnataka Pulmonology Association
Amrita Bronchology and Interventional Pulmonology group


Papers Published
Papers published in numerous peer reviewed journals
Faculty and speaker at numerous national and international forums