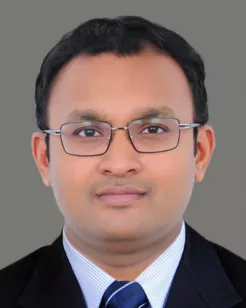 Dr. Biju Chandran
Consultant - GI, HPB And Multiorgan Transplant Surgery
MBBS, MS (General Surgery), Post MS, MCh (Gastrointestinal Surgery), MRCS (Glasgow), Fellowship in Multiple Organ Transplant unit.
Overview
Dr. Biju Chandran, with more than 11 years of experience in complex hepatobiliary surgeries , robotic hepatic-biliary surgeries, minimal invasive gastro intestinal , colorectal and upper GI benign, cancer surgeries and vascular surgeries. He was instrumental in developing the robotic live donor liver transplant program in India.
He also is a trained organ retrieval surgeon accredited by the British Transplant Surgery. Before joining Aster Medcity he was an Assistant Professor in the Department of Gi and Solid Organ Transplant services at AIMS Kochi.
Awards and recognitions
He has more than 15 publications to his credit in peer reviewed and high impact journals.
He has been a national faculty in most of the transplant conferences and has shown great interest in disseminating knowledge in the field or Robotic HPB surgery.
Other Similar Doctors